Galatta Review Board
Review By :

Galatta Review Panel

Release Date :

11-10-2018

Movie Run Time :

2:51: Hrs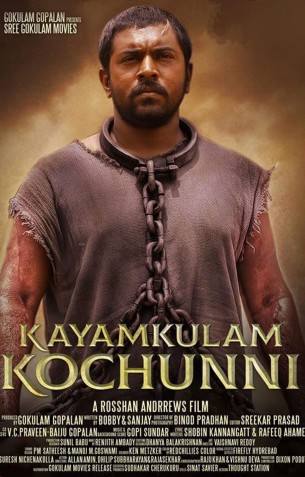 Kayamkulam Kochunni Movie Cast & Crew
Cast :
Priya Anand,Nivin Pauly,Mohanlal
Production :
Sree Gokulam Movies
Director :
Rosshan Andrrews
Music Director :
Gopi Sunder
Kayamkulam Kochunni is a Malayalam period film directed by Rosshan Andrrews and written by Bobby & Sanjay. The movie stars Nivin Pauly in the title role. Mohanlal has made a cameo appearance.
Kochunni played by Nivin Pauly is a famed thief who robs from the rich and gives to the poor, like Robin Hood. It is based a true story which happened at Kayamkulam in the early 19th century.
Though the story is based on a true life, the happenings are cinematic due to the presentation. The film focuses more on Kochunni's early stage than the core part of his life, with a different way of approach, it would have been a massive flick. The impact is flat as it was difficult to connect even with the lead characters in the movie. Malayalam movies usually carry a realistic way of approach, this one is a real-life story, but unfortunately, the presentation is a bit artificial here.
The pace moves very slowly and makes us expect for content, but no exciting stuff appear till the very end. The noble 'Robin Hood' concept has been taken, with a better execution and writing, it would have been a massive flick. The extended cameo of Mohanlal just randomly appeared and it looked like a force-fit factor without properly connecting to the flow. Few scenes have been staged well and a twisted scene before the climax gave goosebumps.
Nivin Pauly's performance is commendable and he has carried the high concept well. He always fits into the thick of his characters, but it is completely missing in the movie. Priya Anand gets a meaty role and she has played her part convincingly. Mohanlal has done an interesting cameo in this movie as Nivin Pauly's 'Guru', but his presence kind of mismatched with the narration. The other supporting characters just appear as fillers without any purpose.
Director Rosshan Andrrews has tried to deliver a large canvas period entertainer, but he misses to fulfill in terms of packaging. The writing demanded better detailing and choice of ingredients could have been stronger. The screenplay is sluggish but the base is set at interval point, after that, the flow missed out to pick speed. VFX shots were quite artificial. Stunt choreography could have been more realistic, as few fight scenes concentrated on boosting the heroism factor. The climax was good as an idea but it has been showcased in a dramatic manner. The ending was abrupt and also hard to believe without a proper justification.
Music director Gopi Sundar's songs are decent and did not disturb the progression as the count was less. His background music is topical just to listen, but the tunes are over-powering than the situations. Camera work is rich, other than few blurred aerial shots, the experience was grand, especially the locations were beautiful. Editor Sreekar Prasad has done a neat job, he should be appreciated for cutting down the runtime by 30 minutes after the censor process. Costumes and art department have adapted perfectly to the timeline of the story.
Verdict :
Verdict
With better writing and execution, Kayamkulam Kochunni would have been a satisfying watch.
Galatta Rating: ( 2.5 /5.0 )
Public/Audience Rating
Kayamkulam Kochunni
Kayamkulam Kochunni is a Malayalam movie. Priya Anand,Nivin Pauly,Mohanlal are part of the cast of Kayamkulam Kochunni . The movie is directed by Rosshan Andrrews Music is by Gopi Sunder . Production Sree Gokulam Movies.