Release Date :
04-10-2019
Movie Run Time :
2:20 hrs Hrs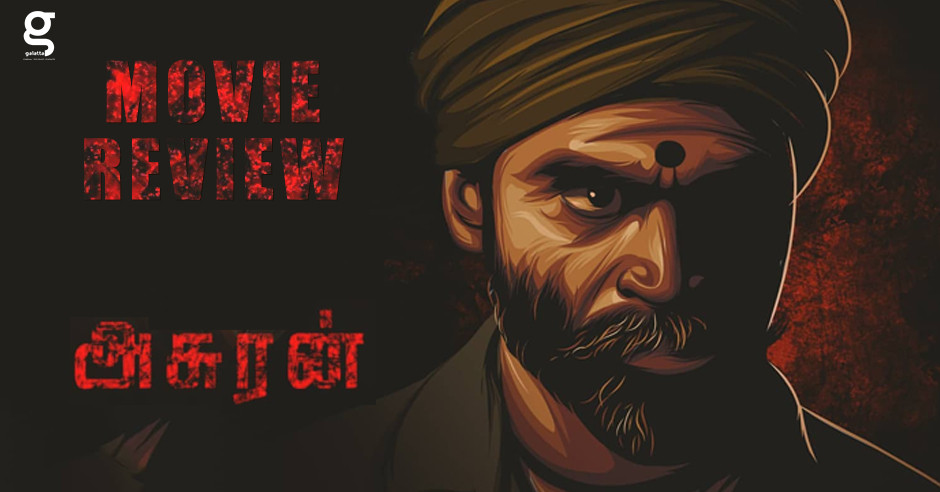 You know you are going to witness magic when director Vetrimaaran and Dhanush come together. Whether they manage to achieve that once again with their latest creation, Asuran, is not too much of a mind boggler as the film itself is quite simple to deduce. As an audience, when we are given films that take time with their plot for us to settle in, Vetrimaaran doesn't wander away or meander for long to delve deep with his intention in Asuran. The plot of the film is simple as it's all about the trials and tribulations of a duty-bound father to go to the ends of the earth to protect his children and family at all costs. 
Time and again, we have seen Vetrimaaran make us think with his films more than once after walking out of the cinemas and he has yet again proved the same with his Asuran. In terms of the films the National Award-winning filmmaker has made before, Asuran is perhaps his most simple work till date. That said, he doesn't compromise at any point in his efforts and gives us yet another raw and intense film. The first half of the film is quick and for the most part, feels almost like a race towards a powerful climax as there is not a drop or deviation in the story at any given point of time.
Throughout the film, we see various emotions at display and this is where we Dhanush as Sivasamy rise to the occasion once again. For a character that requires to be performed with subtlety, we see him not go overboard while enacting his role in a seamless yet enjoyable manner as a father would play around with his child on his shoulders. We see various shades to his character and for a role that asks of him to carry a calm persona for the most part, we see him lose the shackles when the need comes and deliver an asurathanam-aana performance.
Vetrimaaran has given space for each character to stand out with a purpose and that is exactly what is achieved considering the film drives forward with their intentions. Likewise, Manju Warrier, who makes her debut in Tamil cinema, has come out with a strong and notable act as Dhanush's wife and conveys the best of her abilities when tragedy strikes in the film. Then, we come across their children, Teejay Arunasalam and Ken Karunas, for whom they struggle and go beyond their limits to sacrifice everything so they can stand on their feet without having to bow down. This is an aspect that is strongly evident throughout the narrative as we see the negative effects of adolescence that parents have to deal with yet never back out as they are after all their own. Pasupathi, 'Aadukalam' Naren, Balaji Sakthivel, Prakash Raj, Pavan, Ammu Abirami, Subramaniam Siva and A. Venkatesh are beyond just any mere supporting characters as they propel the narrative ahead and give the protagonist to keep moving forward.
On the technical front, Velraj's cinematography is on point and does an exceptional job in showing us the raw barren landscape of the Tirunelveli villages and forest areas. In particular, we see where he smoothly executes a long shot, which carries on for five minutes and is the first of the many turning points in the film. One of the biggest strengths of Asuran is without a shadow of a doubt G. V. Prakash Kumar, who not only scores top marks with his songs, but also in the background score department as his efforts make a beautiful transition in every scene throughout the film. His prowess is exceptional especially during the lead in to the action scenes and is quite intense keeping us on the edge of our seats. Coming to the action in the film, we see Peter Hein stick to the basics and not focus on any stylish techniques, but make it as raw, definitive and violent as possible. Dialogues penned by Vetrimaaran and Su Ka will stay etched in our minds and convey the characteristics as well as the thoughts of Dhanush's character beautifully. The message in the climax is meaningfully delivered summing the life of Sivaswamy and is the best way to end the film. Perhaps the only big negative factor that stands out in the film would have to be the flashback portions, which takes time to blend in with the overall plot.
To anybody who raises the question of whether Vetrimaaran and Dhanush have managed to hit the bulleye yet again with their Asuran as they have done before in the past, the answer lies in the thoughts and memories of our fathers' efforts to raise us that linger in our minds and hearts after stepping out of the cinemas.
Verdict: A highly recommended revenge drama with top-class performances and gritty filmmaking!
Galatta Rating: (
3

/5.0 )
User Review