Galatta |
Feb 14, 2020, 02:57 pm
Chennai: The Greater Chennai police on February 12, renewed the ban they had placed on protests within the city limits. The cops have been obtaining continuous bans on protest and public gathering without permission ever since the nationwide anti-CAA protests began in December last year.
According to sources, the Chennai Police have been regularly thwarting attempts by some activists to protest peacefully at the Valluvarkottam. While protests were allowed on some occasions in December, a ban obtained from the Madras High Court put a stop to this. On Thursday, the Chennai police posted another renewal of the ban on their social media handles.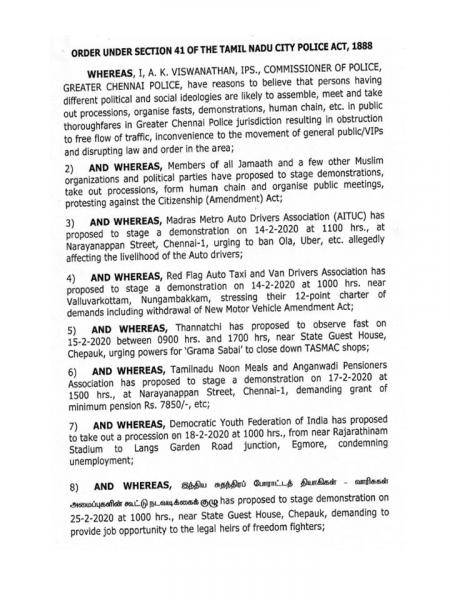 Activists have been complaining that the Chennai police were 'merely making excuses' to keep banning protests and argued that citizens had a right to voice their opinion, especially when they intended to do so peacefully. Some had even filed a PIL at the Madras HC contending that the people were seeking to use their constitutional right to protest.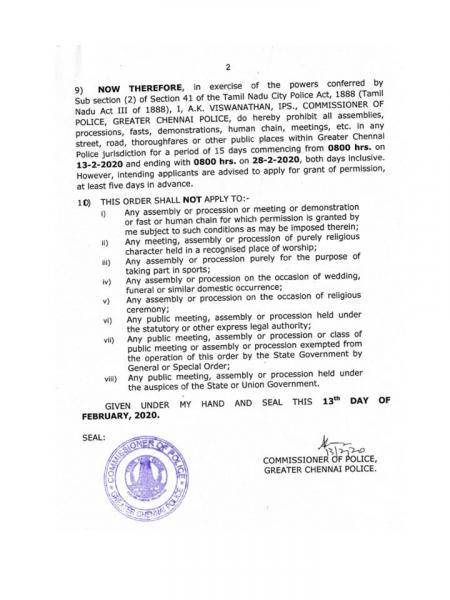 According to the release, the blanket ban on processions, fasts, demonstrations, human chains, etc. will stay in place for 15 days from February 13. Some of the protests that failed to get permission were the demonstration by AITUC seeking to ban Ola and Uber, and protests called by members of all Jamaath and Muslim organisations against the CAA.