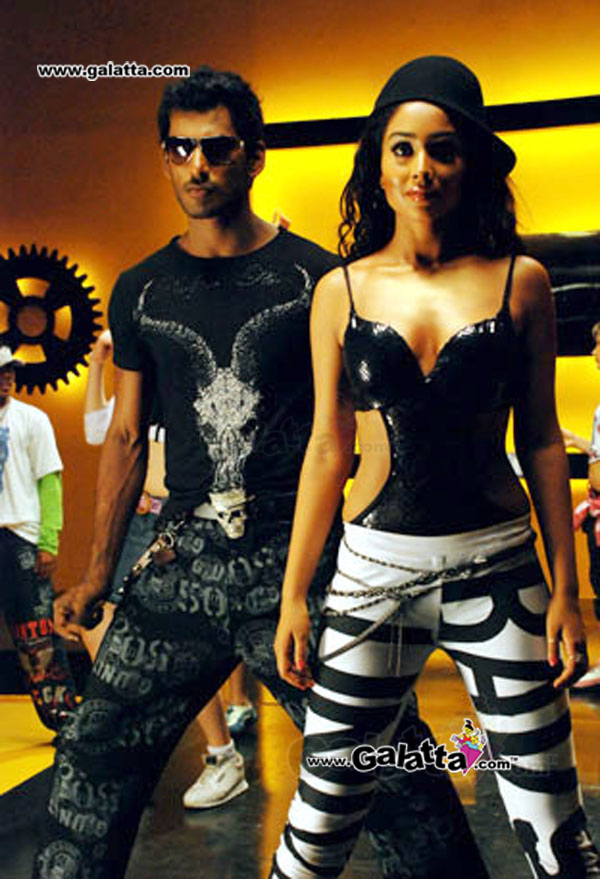 Thoranai Movie review
In recent times, after having seen classic movies like Paruthiveeran, Subramaniapuram, Vennila Kabadi Kulu and Pasanga even B and C audiences have come to know what good cinema is all about. The success of these movies has proved that audiences appreciate them. But underestimating the cinematic taste of movie fans, here comes another commercial masala movie, filled with loads and loads of so-called punch dialogues, glamour and fights including mother-son sentiments. Puratchi Thalapathy Vishal's Thoranai falls flat and fails to entertain.
Who's In It?
Aafter the Sathyam debacle, Vishal returns with Thoranai. Produced by Vikram Krishna and Shreya Reddy on behalf of GK Film Corporation, Thoranai is directed by Sabha Iyappan with music by Mani Sharma. Shriya Saran, Prakashraj, Kishore, Sayaji Shinde, Lal, Santhanam, Geetha, Mayilsamy, M.S. Bhaskar, Aarthi and Paravai Muniyamma are part of the cast.
What's It About?
Murugan (Vishal) and his mischievous gang of friends are quite popular among the people of his village. On coming to know that his mother (Geetha) still feels guilty and sorrowful about being the cause of his elder brother running away from home during his childhood, Murugan promises his mother that he shall bring him back. She tells him that her elder son was last spotted in Chennai by a relative. Vishal leaves to Chennai, stays with his friend Veluchamy (Santhanam) and they get together to search for his brother.
At Chennai, Murugan witnesses a murder committed by Guru (Kishore) a local don. When the police investigate the murder, Murugan promises to be present at the court during the trial. He meets Tamizharasu (Prakashraj) another goon and the arch rival of Guru. Tamizharasu encourages Murugan to go to the court and have Guru arrested for murder. Murugan doesn't make it to the court for a reason (which is revealed in the theatre) which angers Tamizharasu.
Meanwhile, Murugan meets Indhu (Shriya Saran) and falls in love with her at first sight. He tries to woo her with his kindness and amicable nature. Indhu shows some resistance initially, then reciprocates his love and accepts Murugan into her life.
Some time later, Murugan is assaulted by Guru and his men. During this, he gets to know that Guru is his long-lost brother. The fight between Guru and Tamizharasu continues. In the tussle, Guru is shot by Tamilarasu. Murugan saves Guru by taking him to hospital. He discloses to Tamilzharasu that he is Guru's brother and tells him not to trouble Guru anymore. Tamilarasu challenges Murugan that he would kill Guru and then him. The rest of the story is about whether Murugan saves Guru and himself from Tamilarasu and brings the elder brother back to his mother.
The Performances
Vishal as Murugan has played his role with ease. His comic parts remind us of scenes from Malaikottai (where they were much better). He is good in the dance and stunt sequences too. Prakashraj as an actor is wasted. The same applies to Shiyaji Shinde and Lal. Kishore, after giving us excellent performances in Pollathavan, Jayam Kondan and Vennila Kabadi Kulu, has nothing much to do in Thoranai except uttering punch dialogues along with Vishal and Prakashraj. Geetha's role as Vishal's mother is similar to her previous roles. She emotes with the same expressions as in Sivakasi and ATM. Shriya scintillates in glamorous outfits and nothing can be said of her acting skills. The only saving grace of the movie is Santhanam and Mayilsamy as far as performances is concerned.
For the Techie Lovers
Thoranai's biggest plus is music by Mani Sharma, who earlier gave super hits for Vishal with Malaikottai. 'Vaa Chellam', the theme song and 'Manjasela Mandakini' are our picks. The other songs are equally peppy. His re-recording suits the average cinematography and editing. Fights are not very impressive. On the whole, Thoranai is not a technically brilliant movie but it does what a commercial masala entertainer needs.
Final Verdict
Thoranai from GK Film Corporation is average since the story and screenplay are big letdowns. Vishal is capable of delivering excellent performances such as those in Sandakozhi and Thamiraparani. But the actor has to be selective in future projects with better scripts. Uttering punch dialogues in almost every frame is really becoming outdated and not entertaining any more since even Vadivelu, Vivek or their sidekicks do the same. Vishal's interest to reform the villains is getting repetitive after having seen it in Sandakozhi, Thamiraparani and Sathyam. Thoranai's performance at the box office might prove that the audiences are the best critics. Be it the front benchers or the balcony audience, the truth remains that they cannot be taken for granted. Thoranai is not as bad as Sathyam and can be watched as a time pass.
Cheers!: Mani Sharma's music and Santhanam!
Review by Shailesh