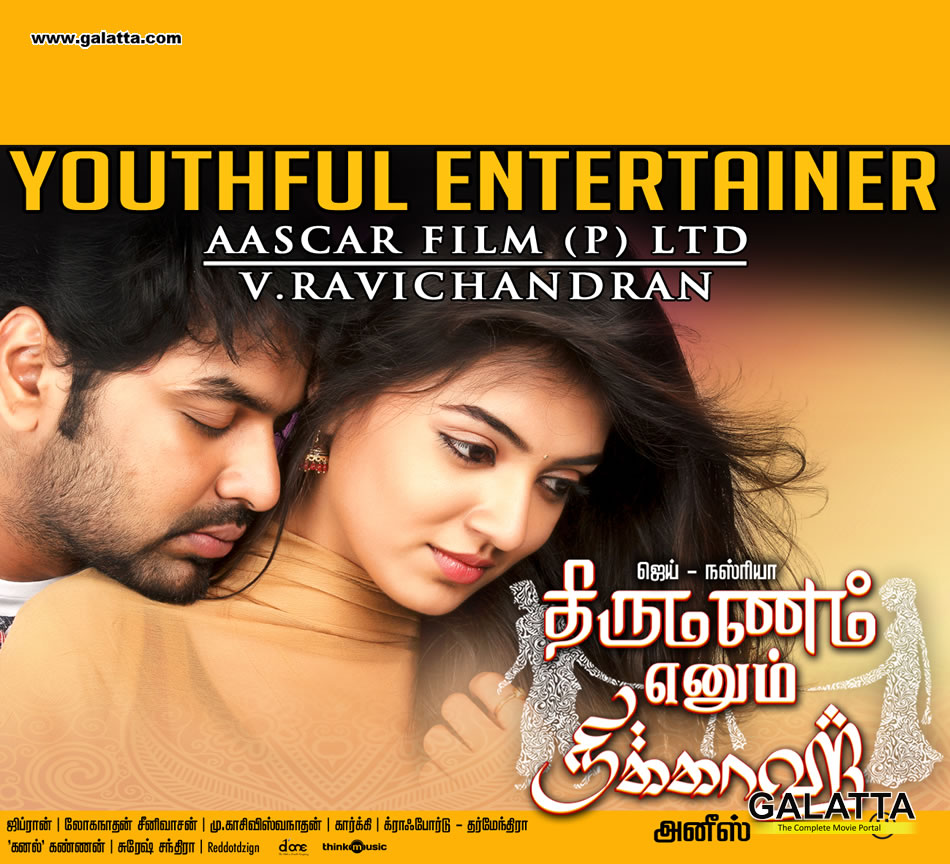 Thirumanam Enum Nikkah Movie review
Thirumanam Enum Nikkah is director Anees's much-awaited movie, starring Jai and Nazriya in the lead. Produced by Aascar Films Pvt. Ltd., this movie has music by Ghibran.
Unknown to each other, brahmins Vijaraghava Chari (Jai) and Vishnu Priya (Nazriya) are forced to come together and assume the aliases of a Muslim couple - Abu Backer and Ayesha, by a train ticket tout, as both don't have reserved tickets to travel to Coimbatore. It is love at first sight for Vijayaraghava, as it is for Vishnu Priya too, but she doesn't accept it so easily. During the journey, an incident puts Ayesha at risk and Abu comes to save her life, and she becomes very impressed. Ayesha and Abu then plan and meet each other and exchange numbers and falls for each other - however, assuming the other to be a Muslim only. Slowly, while falling for each other, the two begin falling for their temporarily adopted religion also. However, when they come to know that Abu is actually Vijayaraghava Chari and Ayesha is Vishnu Priya, will their bond continue? What happens next, forms the rest of the Thirumanam Enum Nikkah.
Director Anees has taken an interesting premise and woven it into a script, though the beginning seems to have been inspired a little by Mrs. and Mr. Iyer. However, there end the similarities. The story is interesting, but the screenplay could have been better. Jai is day by day maturing as an actor and making the term - subtle acting, his own. He excels in his role. Nazriya, this having been the first movie she signed in Tamil, is as bubbly as ever and very cute. The supporting cast of Heebah Patel, Jamal and Pandiarajan have done well. The cliches let the movie down but what stands out and keeps the movie moving is Ghibran's songs and BGM.
Thirumanam Enum Nikkah is a glorification of two very rich cultural heritages and a celebration of the institution called marriage.