Taramani Movie

Photos
View More Taramani Photos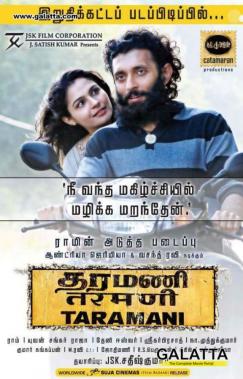 Taramani Movie review
Director Ram has carved a niche for himself with his own take on society and the way people live which continues with Taramani, a lacklustre movie that aims to throw sarcastic comments on everything and it is a film that the average youngster may not be able to connect with.
First of all, the film has been rated as Adults Only with an A certificate and it cannot be seen by an entire family or those with young kids. But, will married couples and people in love enjoy the film in theaters? Not exactly! It's about a jobless young man who starts a live in relationship with a divorced woman who has a son. By any probability, that may happen 1 in every million in Tamil Nadu making it impossible for the average audience to connect with it.
Taramani follows the life, love and the emotional turmoil of two extreme individuals who come together for no actual reason. Andrea is on the top of the society earning close to a lakh in an IT company while Vasanth Ravi is not only jobless but lives a life close to being a beggar on the streets, sleeping in railway stations.
The director tries to convince the audience that if people can put up with the lack of logic in so many social issues, they should put up with the unconvincing pair up in the movie. It's not the best way to say to an audience that they should just shut up and accept all the senseless things revealed throughout the movie.
Vasanth Ravi is a typical hero like previous films sporting a large beard and a psychotic smile but he does the role to his level best. A major share of Taramani relies on Andrea's performance and the actress, just like many of her previous films maintain an expression less look even in the most intense scenes.
Andrea seems to be cut off from the world the director has created and can never convince the audience that she has to take care of a young kid with some responsibility. Not so surprisingly, Ram's previous heroine Anjali scores even though it's a cameo. Taramani is a huge sarcastic, satirical take on all the wrong things happening in the society which is saved to some extent by the excellent songs, background score by Yuvan Shankar Raja and very meticulously camera work by Theni Easwar.
Director Ram's message in Taramani is honest which is something audience and critics can't deny even though it may be tough to cope up with all the loud screams and some wacky camera shots that can hurt your eyes so bad at times.
Thumbs Up
· Satirical dialogs and Ram's voiceover
· Yuvan Shankar Raja's music and songs is one of the best
· Drone shots and wide angles make cinematography plausible
Thumbs Down
· Too many social messages all packaged in a relationship story
· The average couple won't enjoy the movie as it isn't a romance drama
· Plenty of uncensored words and scenes throughout the film's run time
Verdict – If you can put up with lots of bad words, loud screams and enjoy satire, you can watch Taramani!