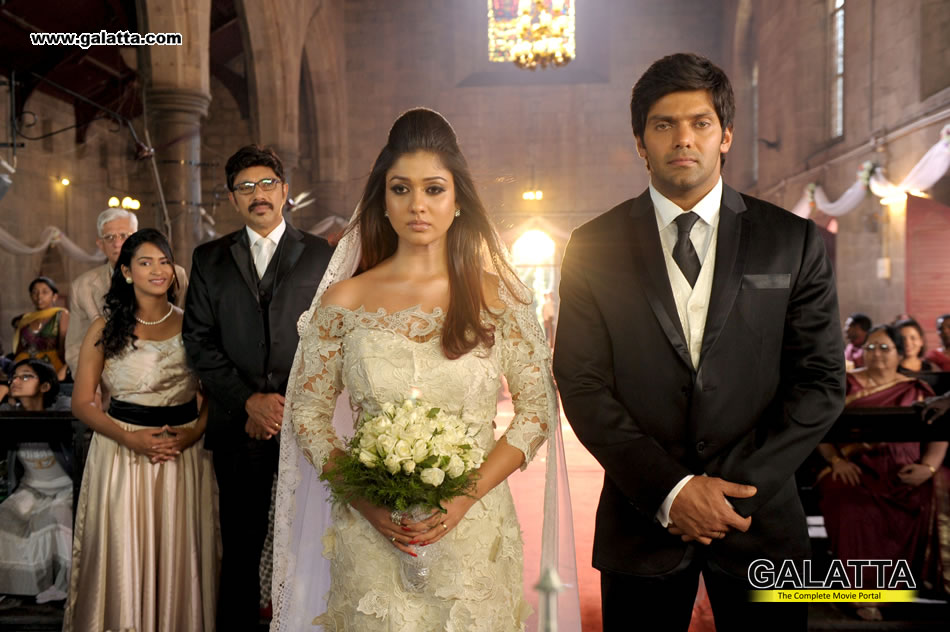 About

Raja Rani
John and Regina get married despite being unable to come out of their previous romances. How do they learn to accept each other, and eventually fall in love?
Raja Rani Movie review
In every household there is a king and a queen. How that royal couple rule together and independently is up to the choices they make. The happiness and equilibrium of the family depends on the compromises they are ready to make. This is the story of director Atlee's Raja Rani.
Raja Rani is a husband and wife story. Every household has a Raja and a Rani. This film talks about the petty problems and ego clashes between the lead couple. Starring Arya, Nayantara, Jai, Sathyaraj, Nazriya, Santhanam and Sathyan, the film is the directorial debut of Atlee, a former associate of director Shankar. This romantic comedy is produced by AR Murugadoss along with Fox Star Studios.

THE PLOT: John (Arya) and Regina (Nayantara) get married out of situations. While Regina's true love was the innocent Surya (Jai), John is still in the sweet memories of Keerthana (Nazriya). What destiny has in stores for John and Regina; how they rediscover their love forms the rest of the story.
Raja Rani has a very simple plot, but it is the treatment and the making that makes it different. Arya looks dashing on screen and his chemistry with Nayantara and Nazriya works well. Though Nazriya appears only for few scenes, she has done her part well. The major highlight of the film is Jai and Nayantara. The bold diva of Kollywood has made a perfect comeback in Tamil with this romantic entertainer. Jai's role, that of a sweet-innocent lover, is very similar to the one he played in Engeyum Eppodhum. The first half is simple, funny and interesting while the second half needs a little trimming. The film basically bridges the gap between the love and marriage... There is love and life even after a love failure, this is the basic crux of Raja Rani. It has been a while since we have seen a feel-good entertainer and Atlee has made the right start. The film comes as a whiff of fresh air in Kollywood which is otherwise filled with serious films.
Raja Rani is a breezy romantic entertainer, grab your popocorn and get your tickets now.