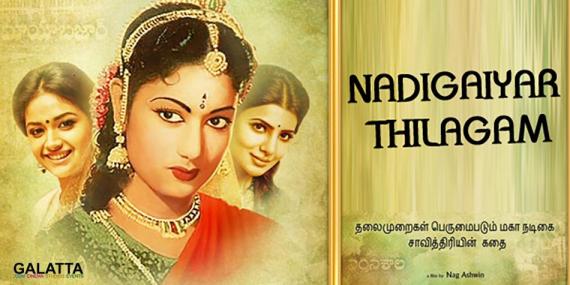 Nadigaiyar Thilagam Movie Cast & Crew
Cast :
Prakash Raj,Naga Chaitanya,Shalini Pandey,Vijay Devarakonda,Samantha,Dulquer Salmaan,Keerthy Suresh |
Production :
Studio Green,Blue Ghost Pictures |
Director :
Nag Ashwin |
Cinematography :
|
Screenplay :
Siddhaarth Sivasamy |
Music Director :
Mickey J Meyer
Nadigaiyar Thilagam Movie review
Nadigaiyar Thilagam is a Tamil biographical period film based on the life of former South Indian actress Savitri, who has been portrayed by Keerthy Suresh alongside Dulquer Salmaan as Gemini Ganesan, Samantha Akkineni, Vijay Devarakonda, Shalini Pandey, Naga Chaitanya, Prakash Raj and Bhanupriya under Nag Ashwin's direction.
Nadigaiyar Thilagam film starts off showing Keerthy Suresh as Savitri in a coma. At this point, Savitri is no longer the revered actress as she was during the peak of her career. Samantha as Madhuravani, a journalist, is assigned the task of collecting information on Savitri and reporting back her story.
Being a Brahmin girl, Madhuravani's parents have begun searching a groom for their daughter. It is then when she meets Vijay Devarakonda as Vijay Antony, a photographer, who is secretly fond of her.
The story then progresses to a flashback mode when a few circumstances lead to Samantha and Vijay Devarkonda coming across a person who knew Savitri. Samantha then comes across a letter which was the last letter penned by Savitri prior to her entering coma.
Nadigaiyar Thilagam then progresses in a narrative format and Samantha begins collecting photographs and other articles related to the iconic actress.
The film goes on to show how Savitri wanted the love of her father all her life amidst her steady growth and rise as a performer. We are shown how Savitri had as a child excelled in dance before progressing to theatre and finally making a name for herself in films.
Upon her entry into films, love blossoms between Savitri and Gemini Ganesan portrayed by Dulquer Salmaan. Their love grows with each film they work together despite Gemini Ganesan admitting he is already married. Although the two decide to part ways, at one point he goes on to reveal to her he still has feelings for her.
The two decide to get married and the film then progresses to show the various trials and tribulations they come across. Despite being stars, jealousy creeps into their relationship at one point and we see the beginning of a downfall for Savitri. The remainder of the film revolves around whether how Savitri falls a victim to alcohol addiction and her craving for love in her life.
Director Nag Ashwin has focussed on projecting emotional aspects with the film and has hit the right chords almost all the way through. The manner in which he has wielded the characters laying appropriate emphasis on each of them goes to show he had planned on bringing to screen a story that will make you fall in love and cry after you have walked out of the cinemas.
On the performance front, Keerthy Suresh has owned her role by portraying the legendary actress, Savitri. Being a biopic, she has carried the entire film on her shoulders and is a major step forward in terms of performance compared to her previous roles.
Although Samantha comes in as a major supporting character, she has left a massive impact to the outcome of the story as she is the catalyst who propels the film forward. Her portions with her onscreen partner Vijay Devarakonda are a breezy delight and he too goes on to leave us smiling in all the scenes he appears in. Dulquer Salmaan has off late been taking up various projects that not only showcase him as an actor, but also as a performer and this time it's no different as he has come up with yet another memorable act. Other supporting artistes namely Shalini Pandey, Prakash Raj, Bhanupriya, Naga Chaitanya in a cameo have delivered commendable performances in the film.
As for the technical aspects, recreating the golden era of cinema is no easy job and the production team has shown us some excellent work in Nadigaiyar Thilagam. Dani Sanchez-Lopez deserves special credit for wielding the camera and taking us back to the period of the 50's and 80's with such ease. Micky J Meyer's music is appropriate and sticks well with the tone of the film.
Thumbs Up

Solid performances
Technically on point
Good presentation
Thumbs Down
Slow pace
A bit too melodramatic