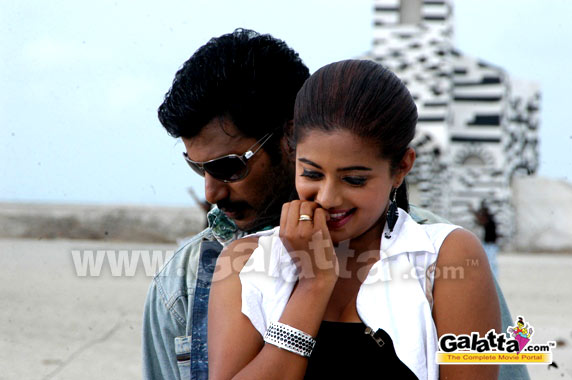 Malaikottai Movie review
This is another action-filled film from Vishal. The characterization of Vishal (Anbu) in Malaikottai is that of an angry youth who reacts to injustice and solves all problems around him taking the law into his hands if necessary.
Anbu (Vishal) travels from Pattukottai to Trichy to his uncle Kandasamy's (Ashish Vidyarthi) house after his clash with a local gangster. Kandasamy is a strict police officer.
As Anbu enters Malaikottai, he gets a glimpse of a girl (Priya Mani) feeding crows and takes an instant liking to her.
Palani (Kannada actor Devaraj) is the local goon who has a CBI case against him. He creates problems in the town along with his brother Guna (Ajay Kumar).
During his regular visits to the local police station, Anbu takes a call from the town college and comes to know of their problem.
Anbu rushes to the spot on his uncle's bike. The crowd takes his help, assuming that he is a policeman. There, Anbu again meets Malar (Priya Mani). Propelled by his feelings for her, Anbu proposes to Malar, but she declines, saying that she has fallen in love with Guna.
Anbu takes it in his stride, saying that it is not a shame to fail in love; that he will be eager to meet the person who has won the heart of the lady who he fell for.
But Malar's attempt to evade Anbu leads her to a serious problem.
Guna takes her interest as an opportunity, tortures Malar and carries her off to his place. Anbu attacks Guna and Palani comes to his rescue.
A steady conflict is established, with Anbu against Palani and Guna.
How Anbu solves it and how he saves Malar from the whole trouble makes up the rest of the plot of Malaikottai.
Besides the main track, the love between Kamala (Oorvasi) and Kandasamy (Ashish Vidyarthi) is interesting and new, with all their romance portrayed in black & white.
Vishal is agile and impressive in his stunts. Comedy that he has tried in Malaikottai offers a new dimension to his action-image.
Priya Mani looks lovely in her trendy clothes and is glamourous in the song sequences. From Paruthi Veeran to Malaikottai, there is a striking difference in her.
All the characters in Malaikottai have considerable significance and move along the main story-track. Oorvasi as the hilarious constable, Devaraj as the convincing goon, Ponnambalam as the comedy villain, Mayilsamy as the one who constantly attempts to become a treacherous rowdy and of course Ashish Vidyarthi with his action laced with enjoyable comedy.
Kanal Kannan deserves a special mention in the crew, for his pacey and realistic stunts.
Songs in Mani Sharma's music, particularly the remix of 'Hey Aatha Aathorama'are enjoyable. Director Boopathy Pandian has given a complete entertainer.
Malaikottai is a typical action 'Kottai'.