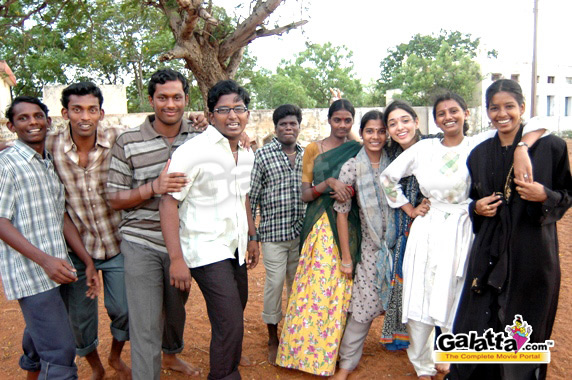 Kalloori Movie review
After Mudhalvan, Kaadhal, Imsai Arasan 23am Pulikesi and Veyyil, Kalloori is the fifth production from Shankar's S Pictures. Balaji Shathivel has directed Kalloori, which is different in terms of storyline and portrayal from his earlier venture, Kaadhal.
Undergraduate students Muthu (Akhil), Ramesh, Aiyanaar, Kamakshi, Albert and Kayalvizhi have been friends since their admission in their school. In addition to being dedicated students, some of them have special talents; Muthu is a good athlete and Kayalvizhi is an able orator.
Shobana (Tamanna) is a city girl who joins the same college. When Shobana joins the friends' group, Muthu senses a strange closeness and a deep relationship towards her. But poor Muthu is not able to distinguish between friendship and love. This dilemma tortures him. Feeling too scared to discuss it, he travels to his home town, attempting to sort it out by himself.
Kayalvizhi (Hema) represents the college in the talk show, 'Visuvin Arattai Arangam'. There, she emphasizes the importance of friendship and establishes the fact that the relationship between long-term friends always continues in the same nature throughout their lives, citing evidence from her own experience.
In the meantime, Muthu's trainer meets Shobana and enquires about his absence from practice sessions. Confused and determined to find out the reason, Shobana meets him in his home town. There, Shobana is moved witnessing Muthu's simple lifestyle and she longs to become a member of his close-knit family. With that impression, Shobana too develops a crush towards the unassuming simpleton, Muthu.
While on a college tour, Shobana discusses her feelings for Muthu with Kayalvizhi, quoting Kayalvizhi's opinion in the debate. While Muthu and Shobana go through an uncertain phase, an unexpected tragedy permanently tears them apart, bringing a sudden and sad ending to everything between them.
In appearance, behaviour and attitude, the entire cast as well as the college set-up is very realistic and convincing. New hero Akhil as well as the heroine Tamanna have put up an admirable show. The dialogues by Balaji Shakthivel are genuine and spontaneous. Songs in Kalloori do not belong to the typical 'Kuthu' type; all of them are based on suitable situations. Chezhian's camera intensely follows the life of the youngsters, recording the subtle and touching moments in their lives.
Truly a movie to enjoy and relish!