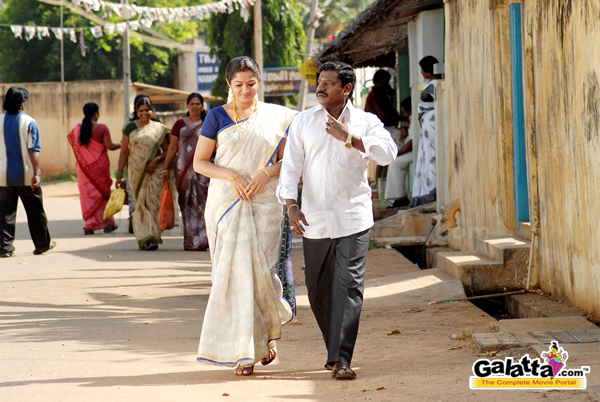 Dindugul Sarathy Movie review
Dindugul Sarathy revolves around a light-hearted plot. Karunas, one of the popular comedians of Tamil cinema, has debuted in a full-length role in the film.
Sarathy (Karunas) is a naive villager who runs a printing press. With a worn-out cash bag in hand, attired in a spotless white dhoti and shirt, Sarathy trundles around in his ancient moped. An eligible bachelor, Sarathy's wedding proposals fail only because of his appearance - medium height, dark complexion, unassuming features... Prospective brides reject his alliance based on his looks, overlooking his charming personality and appeal; they make deprecating remarks about his less-than-attractive looks and reject him. With the inferiority complex these remarks create, a disturbed Sarathy does everything possible to improve his physical appearance. He steps out of his house only after coating his face generously with talcum powder. But despite all his efforts, he faces rejection in the marriage market, getting dejected and losing all hope of ever finding a life partner.
Finally, upon his relatives' insistence, he sees a beautiful girl (Karthika). As usual, he thinks she will reject him, but the girl surprisingly agrees to marry him and they get married. After the wedding, Sarathy is very affectionate towards his wife. But owing to his niggling feeling of insecurity, he becomes suspicious of his wife's behaviour, which dilutes his affection for her. He suspects every single male who communicates with his wife as her secret lover. What are the consequences of his suspicious nature? Who all are included in this list of "secret lovers"? What happens to Karthika? Does she understand Sarathy's predicament or does their wedding face major roadblocks? Dindugul Sarathy has used a lot of comedy to convey the serious message. Watch the movie!
Karunas as Sarathy is really impressive. The scene in which he tries to protect his wife from the strangers' stare is quite pathetic. Here are a few examples of his unfounded suspicions: When Karthika confesses that she is a fan of actor Ajith, Karunas take her to the star's movie but as he watches her appreciate Ajith in the film, he throws a mean tantrum and brings her home, halfway through the show. His suspicions reach a peak when he spots a car pasted with Ajith's poster near his home. Presuming that Ajith was visiting Karthika, he tries to trap the actor by locking the house. Also, when his friend Balaji challenges Karunas that he will abduct Karthika in just ten days, Karunas' agony knows no bounds. All the above scenes register with life and emotion only because of Karunas. The talented comedian has indeed offered his best performance in the lead role.
M.S. Bhaskar is another unforgettable performer in the film. As a fledgling poet, the scene in which he offers a 'tea treat' for his handful of fans and audience is really striking. Karthika too sparkles with her down-to-earth yet strong character. 'Dindugullu Dindugullu' and 'Paruthikkaadau Pathikichu' are good in Dina's music. Ramnath's dialogues are a big plus to the film.
Dindugul Sarathy, full of sugar and less spice, is indeed nice.