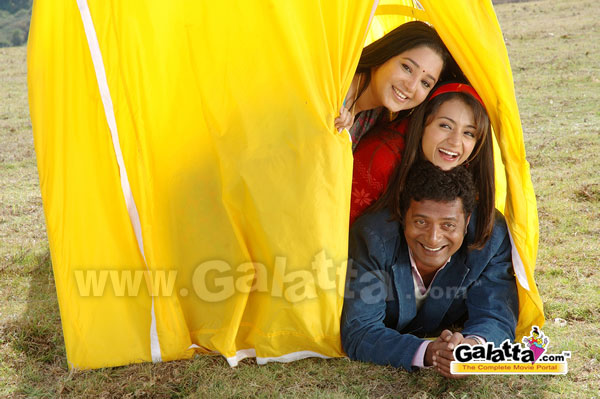 Abhiyum Naanum Movie review
Mozhi made in the combination of producer Prakashraj and director Radha Mohan earned appreciation for its creditable storyline and realistic characters. Now Abhiyum Naanum too invokes the same feeling. In this age of commercial plots, the producer-director duo has taken up a sensible theme and has presented it well on the big screen.
Abhiyum Naanum deals with the relationship between a daughter and a father. Abhi(Trisha) is Raghuram(Prakashraj) and Anu's(Aishwarya) affectionate daughter. From the very moment she is born, Prakashraj develops a remarkable bonding with his baby girl (Such a rare tendency these days when a majority lament about individual independence and emotional freedom!). When she is few months old, he touches those pink, soft toes, drinks in her fragrant baby-scent and keeps her perpetually warm and secured in his embrace. The magical and passionate touch communicates the father's closeness to the daughter. When the girl begins going to school, the fond father gives her ample guidelines, tips her on how to save herself from bullies and stays close to her through the initial school-going phase.
On the first day when Abhi goes to school on her brand-new cycle, Raghu follows her closely on the trail. So Raghu's each and every thought revolves around Abhi. However, though extremely affectionate and protective, Raghu is not possessive towards Abhi. There is a consistent yet delicate balance in the relationship. So when Abhi chooses to do her post-graduation in Delhi, he happily agrees to her decision. But when she comes back with a journalist boy-friend belonging to a different religion, problems arise. After his initial suspicions, when Raghu witnesses evidences that prove Joghi Singh's(Ganesh Venkatraman) position and power in prominent circles, Raghu is unable to convince himself and is distraught and against the wedding. Why? What bothers the loving father? Does Raghu have narrow-minded objections against the inter-caste marriage? Does the love hurt the sensitive father's instincts? How does Abhi reason out her affair to her dear father? Does she take time to do it or does the love distance the father and the daughter? Abhiyum Naanum explores the reasons and outcomes!
Prakashraj and Trisha are Abhiyum Naanum's strengths. While Prakashraj's performance stands out as a film connoisseur's delight, Trisha's soft yet emotionally strong countenance is so natural. The favourable point that has bogged down all the artifice in their characters is the fact that they are in a way enacting their real life roles. Both of them express a natural ease and comfort in their respective roles. The scene where Prakashraj helps Trisha with her school-work is one fitting example for the dynamic relationship. Aishwarya too has executed her part with élan. Apart from the lead characters, two more people who touch our hearts are Thalaivasal Vijay who dons the role of Prakashraj's dear buddy, Kumaravel who appears as the crazy orphan adopted and christened by Trisha as Ravi Shastry.
Preetha's camera presents the hill-station with its natural abundance in terms of colour and consistency. Yet we can also recognize her probing eye for detail in all the sequences. Vidyasagar's music is filled with soft and melodic riffs.
Radha Mohan has written the story and screenplay besides directing the film. His penchant for realistic characters and genuine relationships places him a notch above the majority in the field. The film has taken its natural course, progressing as a string of incidents yet building the story on a measured and comprehensible pace. C.P.Narayann and R.Subramanian's dialogues too match the realistic plot.
Abhiyum Naanum is a ground-breaking experiment, a willing offering from producer Prakashraj and director Radha Mohan. The film has once again proved the power and impact of a truly worthy production.