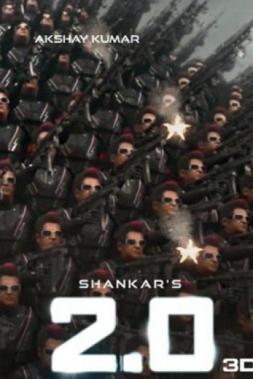 2.0 Movie review
Akshay Kumar rises to seek revenge on mobile phone users for a reason. The humans call out for our very own superhero robot Chitti to save mankind. What happens after they both clash forms the crux of the story.
Director Shankar has once again proved that there is no limit for his imaginations as the film is filled with loads of innovative ideas. The presentation is rich, but the happenings do not appear to be as intended by the maker. He is crystal clear with his vision to deliver a social message with high-end technology, the producers have also fully supported him with finance, but the impact is flat due to mediocre writing. The 3D experience is exhilarating and the colors used are attractive. The characters are sketched with a good base, but the middling progression does not create a strong impact and the care for the characters is not there.
The plot is extremely relevant to the current scenario, a much-needed message is conveyed but the takeaway is absent due to an unimpressive narration. The screenplay is just partially engaging as the execution is not attention-grabbing. The movie is visually rich but there are no surprising scenes to hold the excitement factor. The link with few elements of the first part has been smartly done. Making is spectacular but there are no big attractive sequences beyond that. The progression could have been a lot better, especially while handling the revenge portions in the initial half.
Superstar Rajinikanth returns back in style with his swag presence, his variation in the dialogue delivery adds more strength to the different characters he has played. There are a countless number of mass moments for the Thalaivar fans to go crazy. Akshay Kumar's hard work is evident on screen, despite all the makeup, his performance is memorable and emotionally great. The mystery behind his character kept the momentum going. Amy Jackson gets a solid role to play and she has done with ease, her fit physique has helped her stunt portions look appealing.
Music director A.R.Rahman's songs are good and the placements are clean. The background score is remarkable and the composer has invested his full potential by introducing some brand new sounds. Cinematographer Nirav Shah's camera work is top-notch and visuals are extravagant in every aspect, he has handled the 3D element with clarity as the depth and effect are amusing. Editor Anthony's cuts are impressive but it does not create a major difference in the slowly progressing flow.
Sound Engineer Resul Pookutty has literally invented many sounds that appear in this movie, he has made sure the approach is lively. Stunt choreography is on a decent level, but given the scope, the fight scenes could have been more interesting. Visual effects team deserves a standing ovation as there is a perfection in every shot and the quality is surely world class.
Check out the 2.0 video review below: