LIVE UPDATES! - Thalapathy Vijay Master Audio Launch | Anirudh
By Lokesh RV | Galatta |

March 15, 2020 15:00 PM IST
The much-awaited evening has now dropped in and the audio launch of Thalapathy Vijay's Master is happening amidst high expectations from fans. The event, which is directed by Noise and Grains, is happening at Leela Palace Hotel in Chennai in the presence of the film's full cast and crew. The film has music scored by Anirudh Ravichander who has already delivered three chartbuster singles. Galatta Media is going to provide exclusive live updates directly from the event. Follow this thread below to know about the happenings instantly!
The telecast on Sun TV is going to be a deferred live telecast. So, don't be late! Catch up on the updates live only here!
Ready Ah Maapi!
--  Veteran Actress Simran has performed a dance sequence and the pre-shoot of that was just finished...
--  Mirchi Vijay and Bhavana to host the grand evening in style! They're on stage, gearing up to start the event!
--  Guests who have arrived and seated so far - Sriman, Premkumar and VJ Ramya
--  Thalapathy Vijay's parents SA Chandrasekhar and Shobana are seated as well!
--  There's going to be a live performance by the young prodigy and musical sensation Lydian Nadaswaram
--  Chetan, Nagendra Prasad, and producer Ishari K Ganesh are seated! Event to start in some more time! ​​​​​​
--  The hero of the night Anirudh Ravichander enters Leela Palace hotel. He is yet to enter the auditorium hall! - Ani is expected to perform songs live on stage. Stay tuned 
-- The beautiful Malavika Mohanan has entered the auditorium! 
--  Vijay's anbaana thambi and the Update-man, Shanthnu Bhagyaraj arrives for the event! 
-- Stunt Silva is also seated!
-- Captain of the ship, Lokesh Kanagaraj arrives inside the auditorium. Greets the guests seated inside!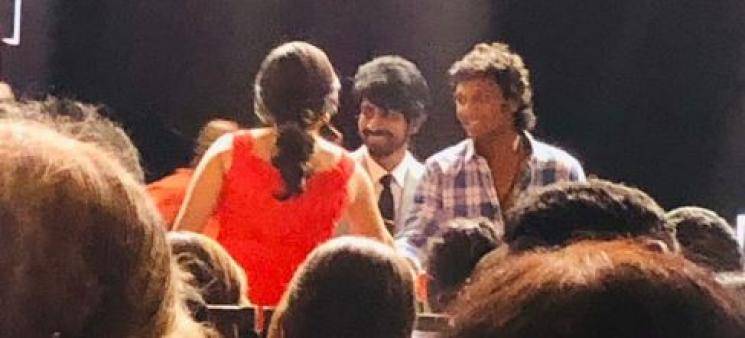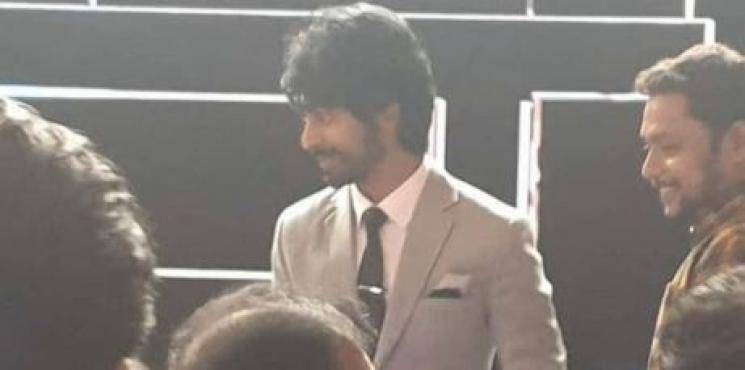 -- Master Lyricists Assemble - Lyricists Arunraja Kamaraj enter the auditorium.
-- Dance Choreographer Sathish is seated as well!
-- A special dance performance by kids choreographed by Sandy master was shot a few minutes back (pre-shoot)
-- Producer Xavier Britto standing at the entrance of the tunnel to welcome the celebrities in person! 
-- Thalapathy Vijay, Namma Vaathi enters the auditorium in style with the music of Vaathi Coming! Huge roars and cheers! Auditorium erupts!  person!



Event to begin! COUNTDOWN BEGINS! 
Get set for the extravagant event! 
-- Thalapathy Vijay looks super stylish in a complete black suit! Official Pictures are going to take social media by storm!
-- The musical evening starts with the live performance of Lydian Nadhaswaram.
>> Thalapathy Vijay appears in a super stylish suit after a long gap! His last public appearance in a suit was for Nanban Success Meet!  It has been 8 long years!
-- Sneha Britto on stage to welcome the gathering! 
-- Sneha Britto - "All of #Vijay's movies are like festivals in our house. My father also started his career as a professor."
-- Vijay's parents SA Chandrasekhar and Shoba on stage to share a few words! 
-- SAChandrasekhar - "I didn't expect to be called on stage. Very happy to be a part of such a beautiful event. I am so happy that words aren't coming out. Everybody here are part of my family."
-- Shoba - "KuttiStory is my favourite among Vijay's songs." 
-- Shoba asks Thalapathy Vijay to come over to the stage and give her a hug! Vijay goes up to the stage and hugs her! SWEETNESS MAXXX!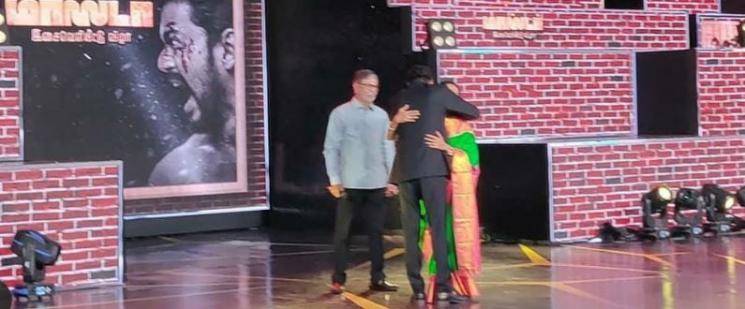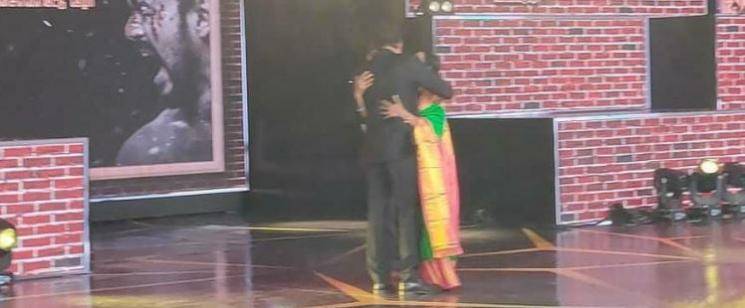 -- Master's lyricists Vignesh Shivan, ArunRaja Kamaraj and Vishnu Edavan (also the film's AD) on stage to share a few words! 
-- ArunRaja Kamaraj - "I wanted to talk a lot but I have almost forgot everything when standing on the stage. Big thanks to Lokesh sir for this opportunity. I have a very personal connect with this song. Anirudh sent me the tune and I was called for recording the rough track. I was travelling from Tiruvarur to Chennai when my driver slept off and we met with an accident, about 20 Kms from Villupuram. We planned to tow my car and I sat inside the towed car and I listened to the song on repeat mode for almost 3 hours. The 'life is very short Nanba' lines seemed so true for me. It would have been over in a few seconds if the accident had been bad."
-- Vignesh Shivn - "Thank you very much for this opportunity. At the Kaththi audio launch, we were standing among the crowd as Ani's friends. It feels great to be here, now. Ani has always been a huge life support for me and give me great opportunities. The association between different people in Master shows a lot of positivity. The song I've written is a romantic song portraying the heroine's love for sir but it would actually show my love for him. The other song is a situation where sir wants to quit drinking. Jagdish has been a very good friend and supported a lot."
-- Vishnu - "Thanks a lot Lokesh anna. He believed me and gave me an opportunity. I wasn't afraid when he asked me to write but was very strain when I finished writing and had to take it to him. It's a dream debut for me as a lyricist. Both my songs have come out well."
-- Sathyan Sooriyan, Stunt Silva art director on stage
-- Silva - "Vijay sir is like a friend and brother to everybody. I was initially very afraid before joining the team as they're all known to each other and I was the newbie to the team. Thalapathy paasathaala adippaaru."

-- Sathyan Sooriyan - "It was like an illusion when I saw him through the camera for the first time. It was a dream to work with Thalapathy despite being in the industry for 10 years. All 100 days of shoot, I was happy to just see him through the camera"
-- Rathna Kumar and Pon Parthiban on stage
-- Philomin Raj (Editor) - "Lokesh has shown an unseen side of Vijay, a vision that he had of Thalapathy. You will be afraid of seeing Vijay Sethupathi on the screen"
-- Sathish (Art director) - "Unforgettable incident on my birthday. It was like magic. Thalapathy himself sang birthday wishes for my birthday. Sethupathi sir gave me a kiss on my cheeks. Both were special. Even more, Sethupathi kissing Thalapathy, became a viral event. I will be more than happy to go for another 2 years of shoot with this same team to watch Thalapathy alone."
-- Rathnakumar - "I added a lot of things but Lokesh asked me to control the Vijay fan in me. It's a very special moment for me and I cannot tell it as a Kutti Story. I was 10 years old when I saw Thalapathy on screen for the first time. My cousin sisters used to take me to Krishnaveni theatre to watch Vijay's movies. They are also diehard fans. I grew up thinking that ponnukku oru payyana pudikkanum na, Vijay sir maadhiri irukkanum. Vettaikaran was the first audio launch I attended. For Sarkar, I got a backstage pass and was walking around like a crew member. For Bigil, because of Lokesh, I got a seat and now, am grateful to be a part of the same stage as Thalapathy. This movie is Lokesh's thug life mixed with Vijay and Sethupathi's thug life."
-- Rathnakumar - "Master Mahendran will get a very good name after this movie. One day, there was a intense shot happening when Lokesh called me and told, Mahendran would get a very good name after this movie but even then he would still be called Master Mahendran only. Vijay inspired me to become fit. I was 94 when I started shooting for the movie but am now 79"
-- Pon Parthiban - "Raid ponaalum seri, raid vandhaalum seri, Vijay Annan dhaan jeippaaru"
-- Gouri G Kishan, Ramya and Dheena on stage
-- Gouri Kishan - "Master is double promotion for me after 96. I learnt a lot from this movie. Thank you Sathyan sir for teaching me technical things. Gouri - Telling a rumour - Sethu Anna periya jaanu vittutu kitty jaanu oda vandhuttaanga."
-- Ramya - "It's unbelievable that from hosting the Bigil audio launch, I acted with Thalapathy himself, now. Enakku Nalla nanbar kidichirukkaar (Vijay) indha padam moolama."
-- Dheena - "Enga Amma vum Appa vum, naan oru nalla stage ku poganum nu aasai pattaanga. Idhai vida periya stage ku povena nu theriyala. Thanks Lokesh anna. He always takes care of all the AD's and junior artistes like his own brothers. People wait expectantly for movies but only for Vijay air's movie, people wait expectantly for audio launch itself. Oruthan keela evalo padaigal irundhaalum, adhai vazhi nadatha oru thalapathy venum. Bike irukkungarathukkaaga, ecr la adikkadi ride (raid) pogaadheenga"
-- Simran on stage for dance performance.
-- Simran - "Vijay is the best on-screen pair for me. Thullatha Manamum Thullum 21 years completed and Priyamanavaley were the best movies of my career."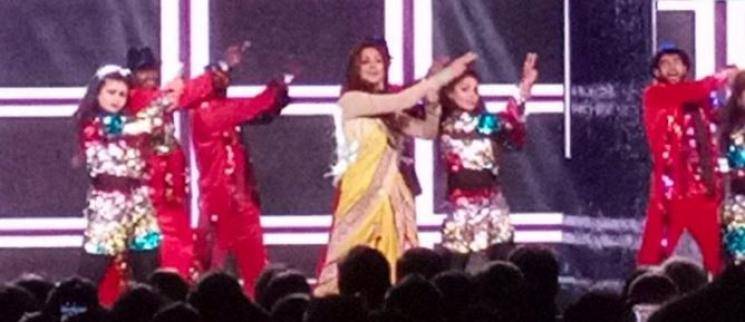 -- Shanthnu on stage!
-- Shanthnu - I call master my debut as Lokesh will give me a good reach among the audiences with this movie. I am on this stage all thanks to the blessings of my well-wishers. Lokesh will not sit in front of the monitor at all. He will be running the whole movie and editing it in his mind itself. Oru kutti story about Vijay Anna - in my childhood, I knew about an actor called Vijay. From ghilli, I became his fan. He was my brother from the time he gave me the thaali, in my marriage.

-- Vijay Sethupathi arrives!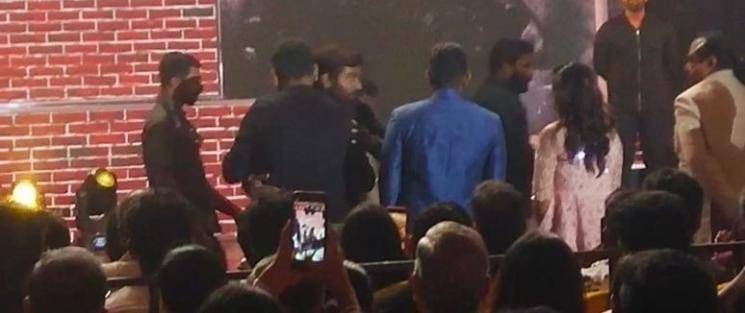 -- Arjun Das on stage next
-- Arjun Das - I used to ask all my friends if I could get a pass to attend one of your (Vijay) audio launches. Yesterday, my friends called me for the same. My parents were only supporting me all these years but after signing this movie, I was able to get them a small gift!. Going for the shoot itself was a dream come true. Getting a kiss from Sethupathi, wishing Vijay sir and then interacting with Lokesh. What more can I ask for?. I have huge regard and respect for all the members of the stunt union after working on this movie. Vijay sir oda acting and dedication pathi pesa enakku thagudhi illa but oru 3 months kooda irundha manushana pathi pesalaam. My parents would be proud if I had learnt at least 0.1% of his humanity. I didn't feel like clicking pics with Vijay and Sethupathi, as I just want to cherish those memories in my heart."

-- Sathish master on stage next
-- Sathis - All choreographers would dream of working with Thalapathy. I am his fan from Naalaya Theerppu itself. Sir ku choreograph pannanum nu oru Veri. Vignesh shivn lyrics ezhudhina oru cute Sana montage song ah dhaan naan choreo pannirukken
-- Malavika Mohanan on stage!
-- Malavika Mohanan - "This is the first time I am talking Tamil on stage, so please forgive me if I talk anything wrongly. Vijay sir is the humblest co-star I have worked with. It didn't feel like working with one of our country's biggest superstars. Lokesh is the coolest director I've worked with. Santhosh Narayanan and Yuvan have sung for master."
-- Kaka Bala performing Vaathi Coming!
-- Kaka Bala and his son want to sing 4 lines in front of Vijay
-- Rockstar Anirudh on stage!
-- This album started with Kutti Story so am gonna perform it but not alone. With everybody as you all know the lyrics. Anirudh is wearing master first look similar costume with a loose tie.
-- Kutti Story performance on stage!

-- Anirudh - "Thanking all the people for the amazing response for the songs so far. Naan oru reel Padam paathutten, Mahendran has acted very well. Lokesh always uchha katta chilled out. Lokesh oda previous 2 movies la song vaangi shooting pogaadhadhu naala, enakku easy aagiduchu. There are 12 songs in the album and 8 would be released today with another 2 releasing in the near future. Kaththi came as a break for me in my career. I have United with Vijay for master after 4 - 5 years and we hope to have done justice to the music. All ur movies are milestones but selfishly, we would want master to be even bigger as we are a part of it. I am happy all the time and don't let pressure get to my mind."
-- Anirudh - "Santhosh and Yuvan have sung for this album and I thank them for that. They agreed to sing as soon as I asked. That goes to show that there is no ego between all of us. We can make music only if we are a fan. We have grown up knowing what people enjoy in the theatres, so I make music for that. Also, my team is brutally honest. They will tell if something isn't good."
-- Producer Xavier Britto on stage!
-- Xavier Britto - "Indha naal en vaazhnaalil marakka mudiyaadha naal, adhukkaaga, en thambiyum, ungal thalapathy um aana Vijay ku nandri solginren. Vijay engal kudumba sotthu, makkalin muthu. Endha nilai irundhaalum vandha nilai marakkaadhavar engal Thalapathy. The attitude of gratitude will determine your altitude. Once on the set, I saw Vijay performing a somersault, with complete ease. Stunt Silva was so amazed that he carried Thalapathy and ran around the set. Passion is the main reason behind Thalapathy's meteoric rise. Talent can take a person to heights but only behaviour and character will make him remain on top... Saluting Thalapathy for his respectable nature. Vijay wants people around him to grow and that was the reason behind elevating Jagdish as a producer."
-- Xavier Britto - "Anirudh Ku udambu fulla talent. Anirudh is the master blaster of master. Vijay Sethupathi is a very good listener. I understand that he is so learned that he must have spoken to so many people and listened to what they have to say. He follows Gandhiji's lines of simple living and high thinking. Vijay is master and Vijay Sethupathi is master actor. Vijay always tells only 3 things to his fans and people around him - belief in urself, respect parents and have care on the society. I told in Naalaya Theerppu that one day our Vijay would become a big superstar in our whole country."
-- Lokesh Kanagaraj on stage!
-- Lokesh Kanagaraj - "I am nervous as this is the first audio launch for my movie. Xavier sir told my name by mistake for co-producer, instead of Lalit sir's name. I didn't even tell the full story but just gave a single line to Sethupathi na. He agreed to do the movie and said he had a belief in me. This opportunity to make a movie with Thalapathy happened only because of Jagdish bro. This happened during Kaithi shoot. During the script final discussion stage itself, we decided to have Makkal Selvan for the role and it fell into place."
-- Lokesh Kanagaraj - "Master will show Thalapathy in a new dimension and the narration would be unique. Everybody in the direction team thought that the title was vaathi, till the day it was announced as master. There were lots of new things in master for me... In both my earlier movies, I never had any interaction with the costume designer as the costumes were the same throughout the movie but here it is different. Also, I have never gotten tracks and gone for the shoot earlier. The posters are like the movie itself... First poster - hero intro, 2nd poster - interval block and third poster - mass climax, is almost right."
-- Entire AD team on stage - 16 AD's
-- All ADs telling their names and introducing themselves

-- Sandy master to perform a tribute song next!

-- Vijay Sethupathi on stage next!
-- Vijay Sethupathi - "Everybody knows how big a mass hero Vijay sir is. To be a part of such a movie is amazing. The day of the poster release, Vijay sir called Jagdish and told him to ensure that my name is also next to his, on the poster. I asked him why he doesn't talk much. Vijay sir said that he's an observer and observes more than talking. I learnt a lot from that. I feel the vibes of the person I talk with. Our first interaction for Master was during the photoshoot for the poster. I felt very comfortable working with him. He gave me the comfort zone to express myself and be myself."
-- Vijay Sethupathi - "I had a doubt as to how the shoot would be. I always approach a scene with an open mind as to how my co-actors would approach it. Vijay sir always adds an element of surprise to each scene. He gives some cute emotions. I saw Vijay sir for the first time during my college days at an event. I didn't come late on purpose but rushed here from a shoot in Tirunelveli. I am telling this to stop rumours."
-- Vijay Sethupathi - "Avarukku close-up veinga... Azhaga vekka paduvaaru. Oru aambalai solli innoru aambala vekka padaradhu paarunga. Britto sir pannadhu anniyayam... Avarey neraya passed eduthukittaaru... En fans Ku laam pass kedaikkala. Lalit kum enakkum aagavey aagaadhu... Enakkum avarukkum adikkadi sandai varum. En payment time Ku kudukkavey maataaru
But Nalla manushan. He was the reason behind the release of '96. Sirichikittey iruppaaru ana villain"
-- Vijay Sethupathi - "Silva is more than just an action choreographer... He's a very sensible man and gets completely involved in each scene. He's capable of making a movie by himself and wish him to do it soon. Shooting spot anniyayam... Lokesh assistants mattum 15 vandi la varuvaanga. Mathavanga ellaarumey serndhey 10 vandi dhaan use pannuvom... Just joking... But a very good and strong team.
-- Vijay Sethupathi - "Lokesh spreads so much positivity and is the reason behind the vibrancy in this movie. His personal story is mass and should be made into a movie. I call him da only, as he himself requested it. He met me in 2013 itself and I have known him since then. Indha padathula naan dhaan hero... If I am Vijay's villain, then he is my villain and so, I am the hero!! This is a double hero subject. 
-- Vijay Sethupathi - "Manushana kaapaatha manushan dhaan varuvaan. Mela irundhu onnum varaadhu... Please don't panic because of Corona. I am not advising just sharing. There is a virus which causes people to fight for god's... No human can save god... Don't believe anybody who tells that they're going to be saved by god"
-- Vijay Sethupathi - "Life na eppodhumey enga Appan dhaan master. Avara adichikka aal kidaiyaadhu. Enga Appan enakku neraya arivu kuduthirukkaan. Oru naal Nalla sarakkadichittu enga Appa poto va thittinen... Ipdi naan Nalla irukkarappo yaen Enna vittu poi tholaichey nu. Enakku life la eppodhumey enga Appan dhaan master. Industry la, naan paakara ovvorutharum master dhaan. Ellar kitteyum edhaavadhu irukkum katthukka. Thalapathy - Nalla manushan. Naan mattum sollala, ellaarumey solraanga."
-- Tribute dance had kids in Vijay's avatars from Ghilli till Master
-- Shanthnu, Vijay and Anirudh dancing for Vaathi Coming!
-- THALAPATHY ALL SET!
-- Vijay starts his speech with "En Nenjil Kudi Irukkum"
-- Vijay - "Touched by Simran's performance for us. I am also sad that my fans were not able to attend the Audio launch. The main reason is the issues outside the venue at the last audio launch and the Corona scare. Thank you and sorry. There will be a Kutti Story behind every song's recording... Ani has made a song with the Kutti Story itself. Ani and Arunaja senjittaanga. Oru thavirkka mudiyaadha aala valandhirukkiraar Vijay Sethupathi. Neraya negative shades irukkura Nalla role avarukku. Enakku doubt, yaen avaru indha role ah accept pannaaru nu. Avarkitteye nerla kaetten, naalu words la off pannittaaru. Enakku ungala romba pudikkum... Avalodhaan. Appo dhaan enakku therinjadhu, avar paer la mattum edam kudukkala, manasu layum kuduthirukkaaru."
-- Vijay - "Shanthnu, ur always in my prayers. Malavika has a beautiful face which suits Tamil cinema... If she learns to speak Tamil better, she would become a leading actress in Tamil cinema. Andrea, u always choose your roles and work. A humble request from our team is that you should do more Tamil movies. Master is the total effort of Jagdish. AR Murugadoss used to joke, he asked me to get an appointment with you. But now, I have to go to him, to get an appointment to meet you. Uncle Xavier Britto has been a major support for my career, in my early days."
-- Vijay - Lokesh, Maanagaram la thirumbi paaka vechaaru. Kaithi ya thirumbi thirumbi paaka vechaaru. Master la enna Panna poraar nu therinjikka, naanum waiting. Avaru oru kutti aacharyam... Bank velai lendhu, short films panni, maanagaram maadhiri oru complex story pannaaru. Avaru Kai la scene paper ehh irukkaadhu. Yaar kitteyum irukkaadhu. First 2-3 days la veri aagi, mana ulachalukku aagitten. Naan kova pattu, ivaroda innum 3/4 months enna panna porom nu therlaye nu nenachen. Ovara plan mattum panravar illa... Master plan panravaru. Apram, Ivar Kitta solli, mottha set kum scene paper kudukka sonnen... Avarum daily morning vandhu scene paper kuduppaaru... Kalaaikkira maadhiri irukkum. Enga velaya naanga senjittom... Padam paathu neenga sollunga."
-- Vijay - "Kutti kadhai nu solla mudiyaadhu... Neenga epdi venaalum eduthukalaam. En Padam song - Ella pugazhum oruvan oruvanukkey... Nee nadhi Pola odikondiru. Nadhi Pola dhaan... Oru edathula start panni, adhoda paadhai la poyikittey irukkum
Oru sila edathula, velakkethi kumbuduvaanga... Oru sila per poo thoovi vananguvaanga. Oru sila per, nammala pudikkaadha sila per, kallu vittu erivaanga. Naama, nadhi maadhiri poyikittey irukkanum. Kill them with ur success, bury them with ur smile. Oru sila nerathula, unmaiya irukkanum na, oomaya irukkanum."
-- Vijay - "Namma nanbar Ajith maadhiri dress pannittu polaam nu coat suit pottutu vandhurukken."
-- Bhavana - Tamil naatula makkalukku oru prechana nu vandha, unga kural dhaan modhalla varudhu... Ungalukkaaga neively Ku vandha makkalukku Enna solla virumbareenga?
-- Vijay - "Erkanavey sonnadhu dhaan. Vera level nga neenga"
-- Bhavana - Ippo irukkura Thalapathy, 20 years back irundha layathalapathy Kitta edhaavadhu kaekkanum na, Enna kaeppeenga?
-- Vijay - "Appo vaazhndha life kaeppen... Peaceful aah irunduchu... Raid laam illaama!"
-- Vijay returns Sethupathi's kiss with a hug

-- Everybody on stage for the audio launch!

-- Audio launched!
-- Thalapathy Vijay takes a selfie! Master selfie moment
 
ANNDDDDD!!! That is all from us for tonight from Master Audio Launch!
Thank you to all our followers for the support!
 
LIVE  VIDEO:
🔴MASTER Audio Launch Live Update | Thalapathy Vijay | Lokesh Kanagaraj