Galatta
|
06:01 PM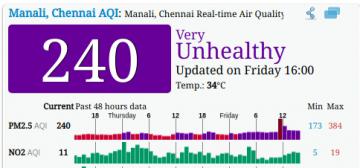 Chennai has been having a hazy, smog-filled week thanks to the wind pattern change triggered in north India by the formation of cyclone Bulbul in the Bay of Bengal. The PM2.5 level, which is a comprehensive measure of minute organic particles and dust, has risen in Chennai to top the levels clocked at Delhi, the pollution capital of the nation.
According to seasoned private experts like the Tamil Nadu Weatherman Pradeep John, the pollution plume over north India caused by urban entities and age-old practices like stubble burning in the farms drifted southward as the air above land got sucked into the growing cyclonic system. Even as private weather experts had agreed collectively, notwithstanding the European Union Earth Observation Programme's tweet confirming the movement of the pollution plume, the state officials had denied the gravity of the situation.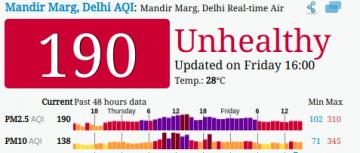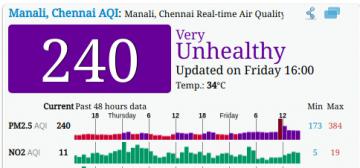 This week, Chennaites have seen thick haze on the roads in the dawn and dusk, and there has been a rise in health conditions like asthma, irritation of the skin and eyes and other respiratory issues. Incidentally, the pollution levels recorded in Chennai has been higher than that of Delhi - a mean feat. On Thursday, Velachery, Ramapuram, Manali, Anna Nagar, and Chennai Airport clocked pollution levels as high as 341, while Delhi stood at 254. on Friday, the Pm2.5 level in Chennai was at 384, Delhi recorded a milder 300.
This was further worsened by the lack of sea breeze as the bulbul low pressure system sucked in more air. Interiors of Tamil Nadu is expected to receive rainfall when Bulbul makes landfall later in the week, but the monsoons seem to be evading Chennai for some more days.