West Bengal, Odisha, braces for impact as Bulbul flits towards the Bangla coast
Galatta
|
03:38 PM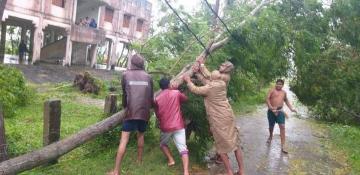 The average temperature in Chennai on Saturday has touched 35.1-degree Celcius, thanks to the movement of cyclone Bulbul. Even as the mercury began soaring in Puducherry, rains have begun lashing the Odisha coast with high-velocity winds. Live updates by NDTV, Times of India and other news portals have been reporting damage to roads and trees, but there have been no casualties so far.
Bulbul is expected to make landfall in West Bengal or Bangladesh on Saturday evening or close to Sunday dawn. Electricity is down in the coastal Odisha and the National Disaster Response Force is already at work in Paradip port area. The gale forces around Paradip last recorded close to 90 kmph with 160 mm of rainfall already. Emergency operation centres have been opened in both states and over 3000 have been evacuated in the area. Both Kokata and Haldia ports have suspended operations until the passing of the cyclone and Bangladesh, likewise, is bracing for the impact.
According to the India Meteorological Department (IMD), Bulbul is likely to weaken gradually on its way to the coast, cross West Bengal-Bangladesh coast between Sagar Islands and Khepupara across Sunderban delta by late evening or night as a severe cyclonic storm with maximum sustained wind speed of 110-120 kmph gusting to 135 kmph.