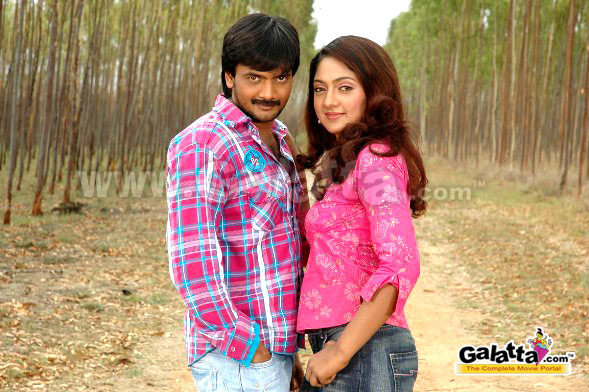 Hello Premistara Movie review
The movie is the home production of Director Puri Jagannath with his younger brother Sairam Shankar as the hero. After 1-4-3, Hello Premistara provides a good platform for Sairam as hero.
Hello Premistara is a love story that progresses with interesting twists in the storyline. Aravind (Sairam Shankar) is a fun-loving youngster and is very friendly with everyone around him. Arvind relocates to Hyderabad along with his mother (Sudha) and sister (Sudeepaon getting a job there.
Nandhini (Sheela), the star-compere of a popular TV channel, anchors a programme called 'Hello Premistara'. Aravind and Nandhini meet, fall in love and get engaged. They look forward to a happy marriage and share their dreams and aspirations.
At this point, Arjun (Aravind's half-brother), who looks exactly like Aravind, enters his life. Nandhini mistakes him to be her fiancé and gets physically close, kissing him when both of them meet in a temple. Arjun takes a liking towards Nandhini and is determined to make her his life partner.
The rest of the story deals with how and whether Arjun marries Nandhini and how the brothers reconcile.
Hello Premistara has dealt with a theme that has the hero in a double role, one good and one bad. And with one heroine, the movie is a love triangle (somewhat like the Tamil film, Vaali starring Ajith, Simran). Though it has a much-exploited storyline, Hello... is appealing because of the screenplay and the performances of the entire cast.
Sairam Shankar has performed well in the movie, bringing about remarkable differentiation between the positive and negative roles. He shines well in song and dance sequences.
Sheela is the pretty heroine of Hello Premistara. She does justice to her character as the confused lover caught in a love-maze. Comedy track by Sudeepa, Sunil and Ali is embellished with enjoyable dialogues.
Music director Chakri, the successful composer of Pokiri and Desamuduru has done a good job and delivered enjoyable and fitting music. Cinematography by Bharani is commendable particularly in song sequences.