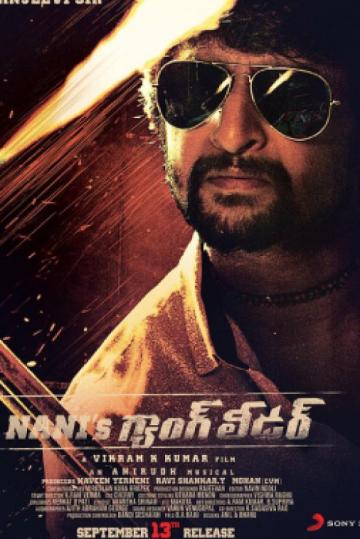 Gang Leader Movie

Photos
View More Gang Leader Photos
Gang Leader Movie review
A group of bereaved women seek the help of a crime novelist to avenge the death of their loved ones. From the outset, you might think Gang Leader to be very serious and tragic but you're wrong, that's where the film actually starts. From that point it is nothing but a fun emotional family drama. After an intense bank robbery, Gang Leader travels like how a goods train does, pretty slowly. 15 minutes through the film when the story unfolds, is when all the fun and mystery begin.

We might have seen n-number of revenge dramas in the past but Gang Leader is as exciting as any of your favourite ones of that kind. It has a good storyline, which is though a tad superficial. How a bunch of orphans gang up for revenge, eventually becoming a family later on and what happens afterwards, form the crux of the film. Vikram K Kumar is generally known for taking up an unrealistic concept and presenting it in a conventional and loveable fashion. His films largely attract the niche audience, however this time, he has tried to reach out to a larger section by adding a lot of masala elements to his script.

It has a few action scenes, which are shot in a very lively manner but the climax one-on-one fight with the villain is boring. The ending looked very apt but looked force-fitted to make the film complete. Gang Leader scores high on presentation, acting and music but what works against the film is the surprise factor. You are never left guessing what would happen next. Most of the times, the audience are ahead of the proceedings and that's the major negative for the film.

Nani actually has lived up to our expectations as an actor, be it his fun side or mass side, he has shown a great degree of commitment like he usually does. Seeing veteran actress Lakshmi in full flow will be a delightful sight, especially if you are a fan of her work. She travels throughout the film and has shone both in comedy and emotions. It's very nice to have her back. Similarly, Saranya Ponvannan has done her work very neatly. Just like in his earlier films 13B and 24, Vikram has properly made use of her, yet again. Praanya P Rao, the cute little girl in the film, makes the proceedings lively. She scores whenever she finds an opportunity. We only get functional performances from all the other leads in the film.

Vikram Kumar is a master when it comes to emotions and detailing but here you feel the drama and mass elements were a little off balance. A superficial script that has plenty of fun moments here and there but as a package, Gang Leader leaves you wanting for more.