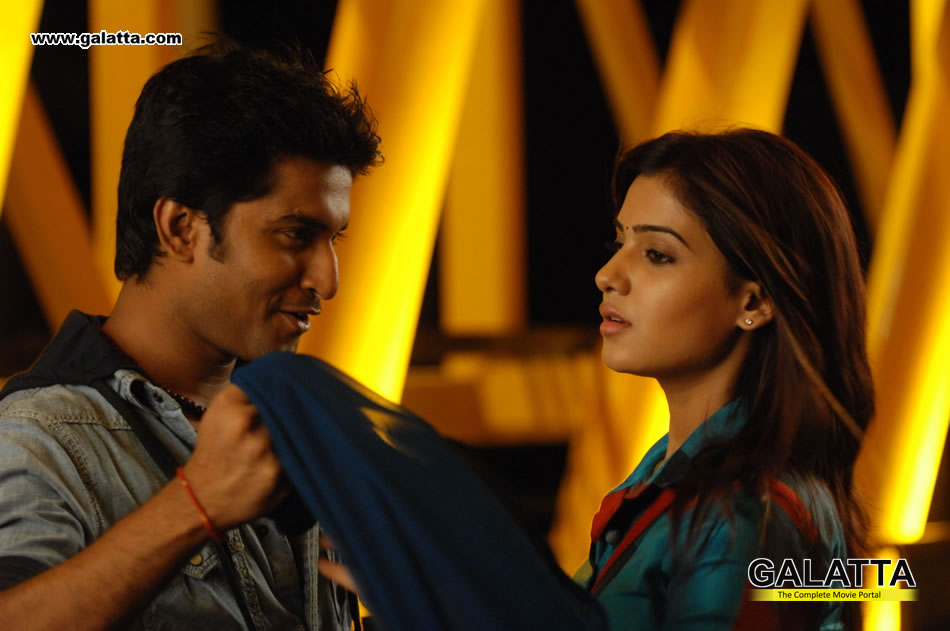 Eega Movie review
If you were looking to have a fun filled weekend, the cinema hall is one place you shouldn't miss going to, because of Nani's Eega. The film has been creating headlines ever since its launch either for being Magadheera director Rajamouli's most ambitious project till date or being a big budget fantasy flick made with a whopping budget of Rs.40 crores, of which Rs. 5 crores are being spent exclusively on visual effects. The film, which has graced theatres with a massive 1200 prints, is made simultaneously in Tamil (Naan Ee) with Samantha, Nani and Sudeep in prominent roles. And finally here comes a most-hyped and well-shrouded-in-mystery, revenge story film project that took over a year and half in the making.

What is it about: Have you ever heard the quirky story of a lover, who goes on a mission to take revenge in the form of a house fly? Read on... It is in fact an experimental film with mainstream emotions.

Storyline: The story of Eega is nothing new to us, in fact Rajamouli is one of few directors who has the courage to reveal the storyline of the film even before its release, such is his courage and confidence on the script. Coming back to story, there are three main characters in the film and interestingly Nani and Sudeep have used their own names on screen too...

Sudeep (Sudeep) is a multi millionaire businessman who always likes to travel on the wrong routes which is simple and tricky. Big business deal and women are his weakness; he is one man who wants to achieve everything he has wished for and he goes to any extend, sometimes by killing his own wife and friend for business deals. He sets his eyes on Bindhu (Samantha), a miniature sculpture artist and social worker. Bindhu is secretly in love with Nani (Nani), who is mad about her. Like many women, Bindhu hides her love and pretends to ignore Nani. When Sudeep finds out Bindhu's love for Nani, he goes mad and decides to finish him (Nani) off. Nani is murdered and Bindhu is heart-broken. He is then reborn as 'Eega' (housefly) who remembers the incidents that took place in his last birth. How will Eega takes his revenge on the villain forms the rest of the story.

Thumbs Up for:

1. Rajamouli's bold attempt: One of the most talked about movies in recent times Eega is expected to create a new revolution in Indian cinema. And kudos to taskmaster Rajamouli for his creativity and brave effort.

2. Visual Extravaganza: In deed a visual treat for film buffs! It is interesting to see the usage of special effects in the right way without any over dose. How can a housefly take revenge? Well, you will have to watch Eega to get the answer! It's a never-seen-before in Indian cinema where an insect behaves in such a realistic fashion. Though the film is a fantasy entertainer, it also has the right blend of love, sentiment and of course humour. This is one film which will definitely take Indian cinema (especially Tollywood) to greater heights. Eega has 90 minutes of visual extravaganza and never-seen-before animated effects. Kudos to Vaaraahi Chalana Chitram, who has produced theTelugu version of the film. The man behind the technology component is Pete Draper, Co-Founder of Makuta Effects, with about 20 years of experience in this space and has worked in films like Magadheera, Ghajini, Enthiran and 7 Aum Arivu.

3. The Sudeep Factor: Coming to the star cast, the film belongs to Sudeep, one of the top actors in Kannada cinema. He is also well established as a director but he had no qualms in accepting the role of a villain. This is definitely one film which can be written down in his diary as once-in-a-lifetime special role. Such an intense role, he has performed it with ease and perfection. His expressions, Kannda-influenced-Tamil and body language is definitely a treat to watch.

4. Good Casting: Interestingly, it is a 'fly' which is the hero in this live-action animation (LAA) film. The USP of the film is the Tom & Jerry act between the villain and the fly! The on screen pairing of Samantha and Nani is fresh and sizzling! Though Nani appears only in the first half, he impresses us with his perfect comedy timing and one liners. After a power packed performance in Veppam, Nani makes another powerful statement with Eega. Samantha is pretty and fits the bill perfectly. This is the first time that Samantha is doing a movie where the focus is more on her rather than the hero! Ways to go Sam! Aditya and Santhanam also needs a special mention for their interesting act, though they appears only in few scenes they make a mark.

5. The Technical Brilliance: Three cheers for Rajamouli for choosing the right technical team. Crazy Mohan's hilarious dialogues (he also makes a special appearance in the film), racy screenplay by Rajamouli - Janardhan Maharshi, Keeravani's foot thumping music (with the song 'Eedaa Eedaa' and 'Lava Lava' standing out), K. K. Senthil Kumar's colourful camera works and Kotagiri Venkateswara Rao's sleek editing.

VERDICT: Fun, full-pelt fantasy entertainment! Book your tickets, grab the popcorn, Eega is a perfect watch for this weekend! Dont miss this visual extravaganza!