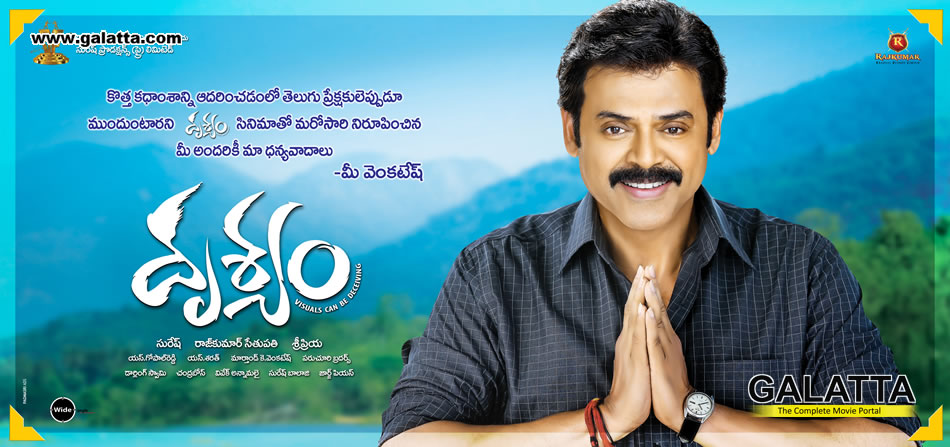 About

Drushyam
Drushyam narrates the story of Rambabu and his happy go lucky family who get caught into an unknown trap. The family get caught into an unexpected crime.
Drushyam Movie review
The critically acclaimed Malayalam film Drishyam's official Telugu remake Drushyam has finally hit the theatres. Victory Venkatesh, Meena and Nadiya have played the lead roles in the movie. Sripriya has directed the Telugu remake version. Suresh Productions, Wide Angle Creations banner and Rajkumar Theatres have jointly produced this movie.
Rambabu (Venkatesh), who runs the cable TV in a small town, lives with wife Jyothi (Meena) and two daughters. Rambabu, though a miser, still never fails to fulfill his family's demands and leads a happy life, spending time watching several movies at his office. He even takes several major decisions in his life inspired by those films. Enters Varun (Roshan Basheer), son of IG Geetha (Nadiya), who had taken videos of Rambabu's daughter, while she was dressing in a trial room. Jyothi who comes to know about his mischief, kills Varun to save her daughter. How Rambabu saves his wife and daughter forms the rest of the story.
Venky has played his role very well. His subtle performance speaks volumes. Meena and Nadiya have played their parts very well. Sripriya has done full justice to the remake. S Gopal Reddy cinematography is a real treat to the eye.
On the whole, Drushyam is definitely a new wave in Telugu cinema!