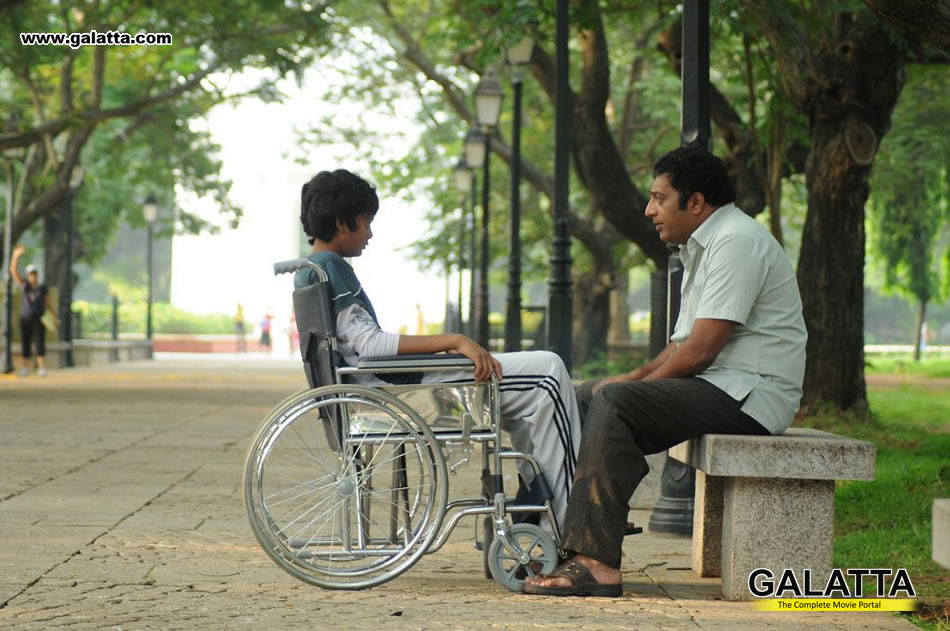 Dhoni Movie review
There is no doubt that children in India are subjected to 12 years of rigorous schooling which has it's own ups and down. Almost every parent in the country wants their child to be a doctor, engineer or a management graduate, but in this competitive scenario we somehow forget about the child's dream or interest; this is the basic crux of National award winning actor Prakashraj's second directorial venture Dhoni, which features himself and Puri Jagannath's son Akash in a prominent role. The film is produced by Prakashraj under his home banner Duet Movies.

The script was written by Prakashraj himself and the cast include Radhika Apte, Bahmanandam, Nasser and Thalaivasal Vijay. While Ilaaiyaraaja scores music, K.V. Guhan handles choreography. The film is simultaneously made in Telugu and Tamil.

What is it about?

It illustrates the conflict of interests of a father and his son. The father, played by Prakashraj, wants his son, to study MBA, but his son is more interested in sports and wants to become a famous cricketer like Mahendra Singh Dhoni. And that leads to a series of troubles in their life.

The Plot

Karthick (Akash) is an average student; he hates two things in this world, Maths and Physics. Karthick's father Subramanian (Prakashraj), a widower, is a government employee but to make both the ends meet he also does pickle business. Karthick is an aspiring cricketer and his only aim in life is to become a great batsman like Mahendra Singh Dhoni. But Karthick's father has different dreams, he wants his son to do MBA. And the conflict begins...
Subramanian fails to realise his son's extraordinary talent in cricket, like millions of other parents, he also thinks that a child's future will depend on his mark sheet rather than his ability or skills. And then there comes a time when the father does something which makes him repent his actions forever! What and how? You will have to watch Dhoni to know more...


The Performance & Techniques

As usual Prakashraj is mind blowing; the insecurity of a middle class father, his actions, the financial crisis in a middle class family, present schooling systems have been well portrayed by the veteran. Apart from playing a powerful role, Prakashraj has also penned the story and screenplay for this film. Prakashraj has done a remarkable job especially in the scene where he talks about the present education system in a debate show. However the climax is a bit over the top and could have been toned a little. Slow pace seems to be another culprit here and a slight tweaking is needed urgently. The film is an eye opener to teachers as well as parents but at times we feel that parents are criticized too much.
Maestro Ilayaraaja's songs are average and the background scores gels well with the story. Among the star cast Tollywood director Puri Jagannath's son Akash comes out with flying colours; indeed a perfect choice. Prabhu Deva's special appearance (in a song) was an unwanted intrusion while Radhika Apte (look alike of Aishwarya Rai) has given a good performance. The child artist enacting the role of Prakashraj's daughter is first rate while veterans Brahmanandam, Nassar and Thalaivasal Vijay have done their part well.

Dhoni might not have all the elements needed for a commercial entertainer but it has a solid message which will definitely make you think.

So 17*8=??? Watch Dhoni, you will get the answer!