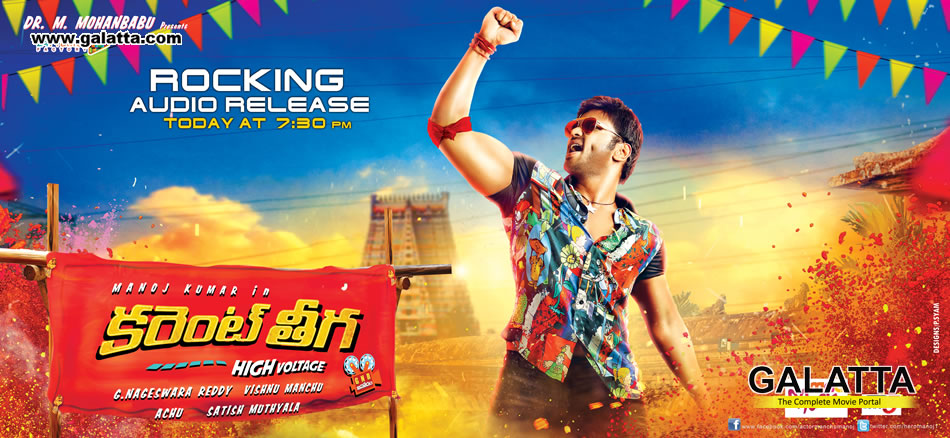 Current Theega Movie review
Manchu family's much awaited project Current Theega has hit theatres finally. Manchu Manoj and Rakul Preet are playing thelead roles in the movie. G Nageshwar Reddy is the director of the film. Versatile actor Jagapati Babu is playing a key role in the movie. Achu composed some peppy songs for the movie. Manchu Vishnu has produced Current Theega under 24 Frames banner.
Sivarama Raju (Jagapathi Babu) is the head of the village. He protects his daughter Kavita (Rakul Preet) and entire family with all evil things in the village. One day he messes with one person who teases Sivarama Raju's daughter. He challenges Sivarama Raju that his daughter will elope one day. As said Raju (Manoj) comes to the village and falls in love with Sivarama Raju's daughter. He dares to do the impossible i.e. challenging Sivarama Raju. The rest of the story follows in how Raju and Kavita get together.
The film has all commercial ingredients like fights, songs, glamour and dances. Manchu Manoj steals the show. Sunny Leone looks glamorous in her small role. Her special song is the highlight of the film. Rakul Preet looks glamorous and also acts well. Jagapathi Babu role is not utilized well.
The music is quite good. Nageshwar Reddy who has directed many comic films has succeeded in delivering another hilarious entertainer.
Overall Current Theega is a routine commercial entertainer.