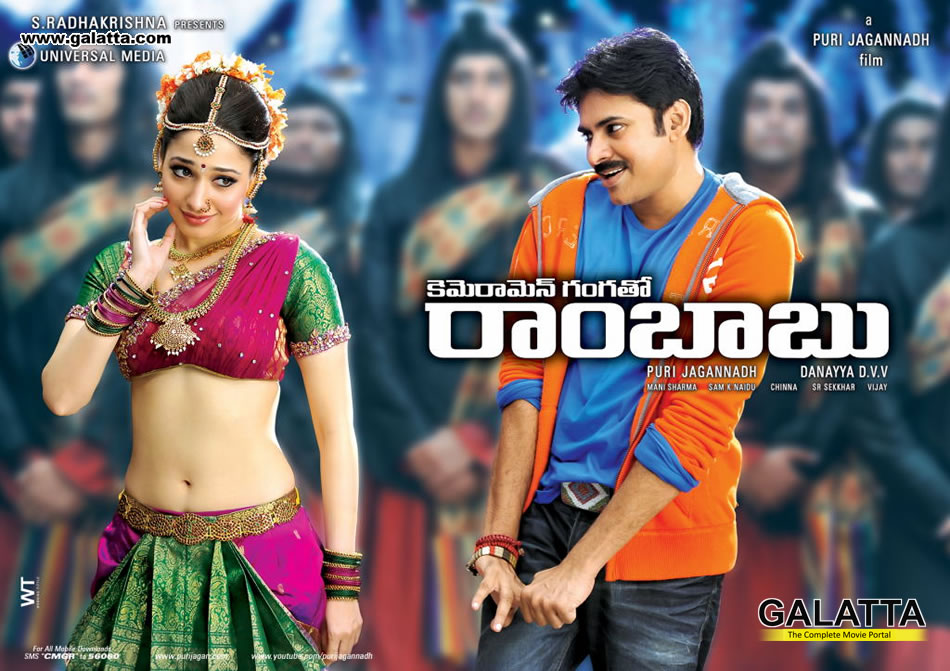 Cameraman Gangatho Rambabu Movie review
Maverick director Puri Jagannath has once again proved his mettle as a scriptwriter and director. With his latest flick Cameraman Gangatho Rambabu, starring Power Star Pawan Kalyan, Puri takes a dig at the current political state of affairs in Andhra Pradesh, intelligently addressing sensitive issues such as Telangana and riots among college students. Although the film may partly appear superfluous, he and Pawan do manage to grab your attention.

When a righteous journalist is killed by a corrupt politician named Rana Babu, a socially responsible mechanic Rambabu (Pawan Kalyan) turns to journalism, after being persuaded by Ganga (Tamannaah) to bring expose crimes of the politician. However, Rambabu does not anticipate that, as a journalist, he is always expected to play by the books. Irked by the situation, he steps down as a journalist and clashes horns with Rana Babu. How Rambabu stops Rana at all costs from becoming the next chief minister forms the rest of the story.

Pawan Kalyan performs with ease and elan and his timing for comedy is commendable. Tamannaah is impressive in her role and proves she is one of the best actresses in the industry. She is even getting better with every movie. The film keeps you hooked, especially during comical moments, involving Brahmanandam and Ali. Puri brilliantly uses them to emphasise on the flawed, over-hyped and unethical media in this country. One particular scene between Brahmanandam and Pawan in the newsroom is hilarious and appreciative. Kota Srinivasa Rao and Prakashraj are brilliant. However, the role essayed by Prakashraj seems similar to the one he played in Businessman.

Coming to technical side, dialogues are one of the assets of the film. Pawan's dialogues on media, contemporary politics, describing girls, etc. had the audiences whistling and applauding. Shyam K. Naidu's camerawork complements the director's vision well. Certain scenes and stunts may be gimmicky, but these are the scenes which will drive the masses crazy. Editing by SR Shekhar is mediocre. The film needs to go under the scissors, particularly in the racy second half. Mani Sharma's music is a huge let down. Although a couple of numbers are peppy, you can hardly remember them. Go and watch Cameraman Ganga Tho Rambabu; it is packaged with full of entertainment.