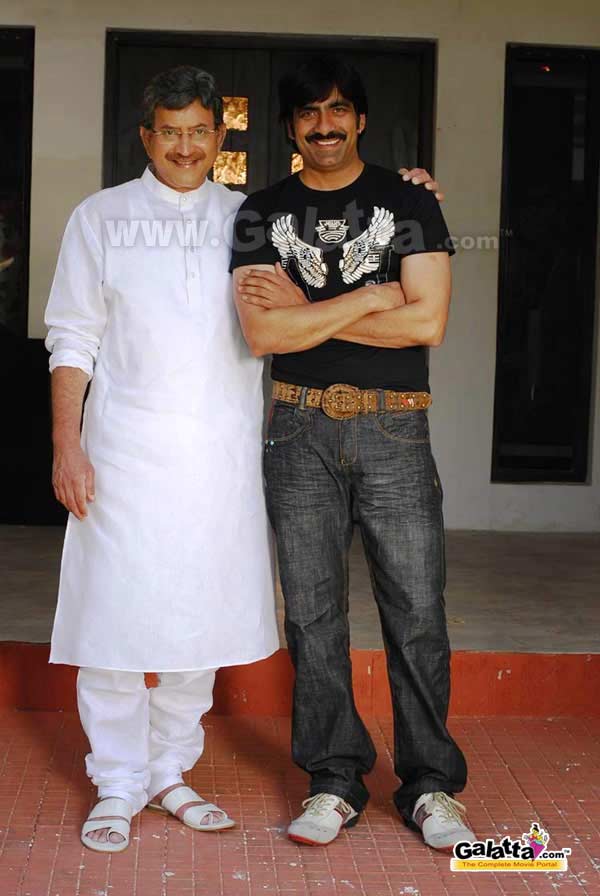 Baladoor Movie review
Ravi Teja's natural exuberance and dynamism have been toned down to a large extent in his latest release, Baladoor, also spelt Baladur. The film opens with Ravi Teja's usual high jinks and cute antics guaranteed to pull any young girl's heart strings. But gradually, the film graduates to a level of seriousness that is not usually seen in his movies. Ravi Teja is a man of purpose with Anushka lending the necessary lightness and glamour to the proceedings.
Chanti's (Ravi Teja) mother dies when he is just a child, so he is brought up in Peddanna's (Krishna) household. Chandra Mohan (Chanti's father) worships the ground that Peddana walks on. So it is natural that Chanti too has the highest regard for Peddanna and will even give his life for his precious Peddana if need be.
Peddanna, the well-heeled proprietor of a construction firm, RK Builders, is straight forward and honest in his dealing, thereby becoming a pillar of society. Always philanthropic in nature, he readily helps anyone in need through cash or kind, which means that he unintentionally makes a lot of enemies with his do-good attitude.
Pradeep Rawat, the main villain, is always plotting Peddanna's downfall at every turn. He's out to eliminate Peddana and pulls out every trick in the book but the clever old gentleman gives him the slip every time.
Due to an unfortunate incident, Chanti's innocence comes under scrutiny and he is found guilty; so his father drives him out of the house. At this depressing juncture, Chanti meets Bhanumathi (Anushka) at a railway station, who instantly falls for Chanti's charming innocence and energy.
Chanti, aware of the danger posed to Peddanna's life by the villain, decides to protect the family from afar. During one of the confrontations, his father becomes an unintended victim of the villain's foul plot. Naturally, Chandra Mohan realises too late that his son had been wrongly accused, begs his son's forgiveness and breathes his last.
The rest of the movie answers questions like: why is Pradeep Rawat bent on wiping out Peddanna and his family? Does Chanti establish his innocence and prevent Pradeep Rawat from extracting his revenge? Do Chanti and Bhanumathi finally unite?
Superstar Krishna as Chanti's godfather breezes through the entire movie, effortlessly portraying the role of an elderly and charismatic pillar of society. With his powerfully charismatic presence as a village elder and then as a philanthropic business magnate, he gives his audience what they came looking for.
Ravi Teja graduates from a light-hearted performance targeted at the masses in the first half to a serious and mature person in the second half that should appeal to the family and more mature audiences. The film is kept from becoming too heavy with Anushka's bubbly and glamorous presence. Ravi Teja and Anushka share good chemistry which shows up wonderfully on screen, making for some sexy and romantic songs that will leave her fans begging for more.
Anushka, seductive and very sexy in the rain song wearing an itsy-bitsy costume, has added some pizzazz to an average musical score. Radhakrishna's music has been complemented by the choreography and beautifully picturised songs that have captured Anushka's every yearning, soft expression in intimate detail.
Chandra Mohan, another veteran who easily fits in his role as the disappointed father who releases his mistake too late, has lived his character with his faultless performance. Brahmanandam, Sunil and his pack of comedians have given classic performances and the movie is worth watching for their on-screen hilarity alone.
Director Uday Shanker has given a very seventies feel to the movie, with its energizing approach to sentiment, comedy, romance and action packaged to bring out a neat family entertainer. One is also reminded of Ravi Teja's Bhadra, a