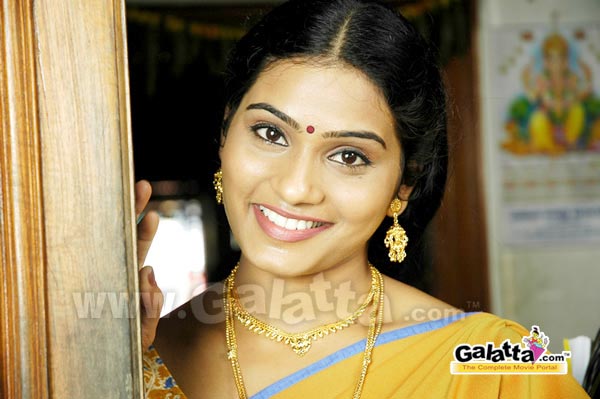 Ashta Chemma Movie review
Mohana Krishna Indraganti's latest offering is Ashta Chemma and expectations are quite high for this movie starring Swati and three other fresh faces. Indragranti has built a reputation for bringing an off-beat aspect to mainstream movies. He has always maintained that any novel idea would work commercially if only producers would venture from the beaten path and try something new.
In Ashta Chemma, Indragranti has given us a fresh take on adolescence, one that most film makers miss out as they tend to focus only on youthful romance.
The heroine, Lavanya played by Swati from the hit-TV show Colors, is a hardcore fan of film actor Mahesh Babu. Her greatest ambition in life was to marry him, but he broke her heart (among countless others!) when he married Namrata Shirodkar. She then decides to set her sights a little lower and makes up her mind to marry someone with is named Mahesh or carries ' Mahesh' in his name.
Lavanya's neighbour, Anand (Srinivas Avasarala), is annoyed with her as she constantly plays Mahesh Babu's songs at maximum volume. Anand hits upon a plan to get rid of Lavanya's obsession by hooking her up with a boy who's named Mahesh. He stumbles on a handsome boy called Mahesh (Nani). Naturally love blossoms between Mahesh and Lavanya when they are introduced to each other. But Lavanya is still obsessed with Mahesh Babu, the actor. The story now takes some hilarious twists and turns due to Lavanya's single minded obsession with Mahesh Babu, the actor.
The major credit for taking this simple yet complicated theme in an interesting fashion goes to Indragranti Mohana Krishna. He has picked versatile youngsters who can do justice to their roles and who are not too well-known, as audiences may not accept established actors in roles that expose human frailties in a frank and amusing manner. He has extracted the balanced performances with just the right nuances from each of the actors.
Swati, who has proved her acting abilities in Adavari Matalaku Ardhale Verule and Subramaniapuram (Tamil) has given a very convincing performance as the Mahesh Babu obsessed teenager. Nani, who is a well-known RJ has proven that he's as good in front of the camera as he is in front of a microphone. Srinivas Avasarala who bagged the role as a result of a talent hunt has come across as a born actor. His presence in the movie is the icing on the cake with his dialogue delivery, comedy timing and body language. He is a real delight to watch and Telugu film industry needs such natural born actors.
P. G. Vinda's cinematography has captured exactly what the director visualised and the movie excels because of this. The editing is just right for this theme as it is a youthful entertainer that the entire family can watch. The music adds to the atmosphere and doesn't distract, Kalyani Malik has understood the genre and composed the tunes.
Though the story in the second half goes through lots of twists and turns with a lengthy climax, the director keeps a firm grasp on the proceedings and doesn't let any loose thread slip through his fingers. Kudos to the producer for allowing the director to experiment with a film where the real star of the story (Mahesh Babu) is not present at all!
Ashta Chemma might be the first Telugu movie where the entire movie revolves around a real life hero. Based on Oscar Wilde's 1920s comedy of errors, Indragranti has adapted the play for the silver screen in a very competent and intelligent manner and it makes for an entertaining outing with family or friend