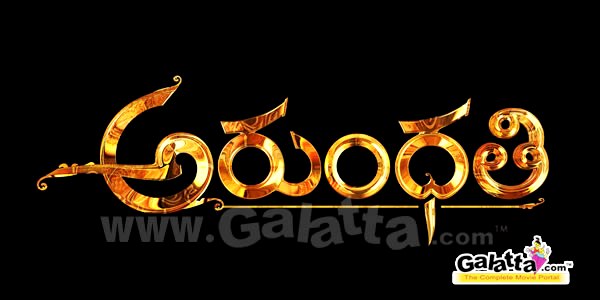 Arundhati Movie review
Like Shyam Prasad Reddy's previous fantasies enhanced by graphics, Ammoru and Anji, Arundhati too is full of graphics that match international standards. Arundhati, a heroine-oriented movie set from the 1920s till the 21st century, stars pretty and curvaceous Anushka. Directed by Kodi Rama Krishna and produced by Shyam Prasad Reddy, the movie projects Anushka with an entirely new look.
For all who thought that the era of the sari-clad seductress was forgotten history, there's new hope in Anushka, who is redefining sensuality with her costumes of heavy silk saris, long plaits decorated with flowers, bangles upto her elbows and the whole look, rounded off with a big red bindi on her forehead. She plays the role of a princess in Arundhati; the movie's name is taken from one of the characters' names.
Now, the story:
Arundhati (Anushka) arrives at her ancestral palace in Gadwal district. Her marriage to her fiance Rahul (Deepak) is imminent and her head is full of romantic dreams. As she is the spitting image of her ancestress, Jejamma (Anushka), her grandfather, Bhupathi Raja (Kaikala Satyanarayana) and his loyal maid Chandramma (Manorama) look upon her as the heiress to the lineage. Jejamma was the princess of Gadwal province 3 generations ago.
A flashback reveals Jejamma fighting and vanquishing Pasupathi (Sonu Sood). His vengeful soul is imprisoned in his samadhi awaiting the day when he can be released so that he can take revenge. Jejamma is blissfully unaware of all this and reigns her province peacefully.
Coming to the present, a couple on the way to visit Arundhati meet with an accident near the palace. The woman vanishes mysteriously and the man breaks open Pasupathi's samadhi as evil spirits possess him. Now Pasupathi is free to wreak his vengeance and comes after Arundhati, mistaking her to be Jejamma. Fakeer Anwar (Sayaji Shinde) who stays close to the palace, warns Arundhati to leave as he can sense an evil presence.
Can Arundhati outwit the evil spirit now? Watch how graphics has lifted a revenge drama from the ordinary to the simply awe-inspiring in theatres.
Anushka is the surprise factor as Jejamma. Rising to fame in glamorous roles and many rain dances, she is beautiful as a medieval princess in traditional attire. Her performance is very good as Jejamma though as Arundhati she's OK. But on the whole, she has proved that she's more than just a pretty face and can act very well. Sonu Sood is chillingly evil as Pasupathi and his performance is very good. Ravi Shankar has dubbed Sood's voice. Kaikala Satyanarayana returns to the screen after a long time and proves that his acting skills are as good as ever.
Koti, who was not involved in any major projects for some time, has returned with some excellent tracks for this movie. With this daring heroine-oriented subject, Shyam Prasad Reddy has proved that his interest in films is not just commercial but is inspired by passion for the craft of film making.
Though slated as a Sankaranthi release, Arundhati came 2 days later to screens, has proved its mettle and broken records.
Click here to check out: