Release Date :
25-08-2022
Movie Run Time :
2:20 Hrs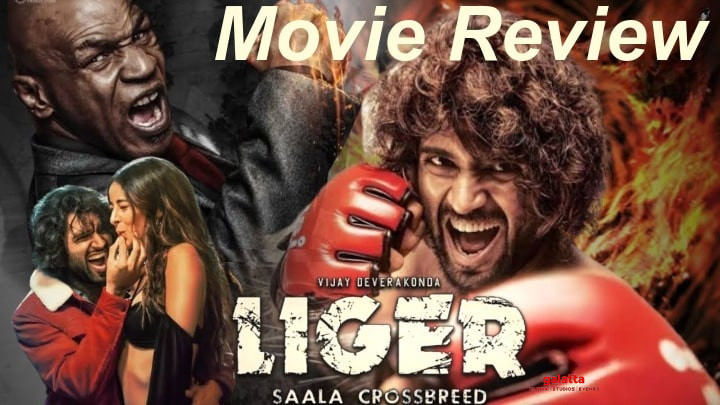 Liger Movie Cast & Crew
Production :
Puri Connects,Dharma Productions
The film is like a bad 80s-90s Tamil or Telugu movie where a song or a comedy track would be randomly inserted, without any care about the overall emotional arc.
There's a terrific idea for a scene in the first half of Puri Jagannadh's Liger. That title refers to the Vijay Deverakonda character, who is named after his lion-like father and his tigress-like mother, played by Ramya Krishnan. Liger and his mother make their living by selling tea, but Liger falls for the super-rich Taniya, played by Ananya Panday. The scene I am talking about has Liger's mother telling Taniya how she raised him single-handedly, and it's her dream to make him an MMA fighter, and she does not want a flighty society girl to destroy that dream. A good masala-movie writer would have made this scene soar. It has everything: a mother's ambition, the rich-versus-poor conflict, a young man whose ambition is swayed by the distractions of a young woman. There is everything. And yet, the scene is a giant ball of nothing. It does nothing to you. It feels like one of many "checkboxes" someone thought they had to include in order to make a certain kind of mass-appeal movie.
It's disturbing enough that Bollywood filmmakers have forgotten to make good masala movies. But when the Telugu filmmaker responsible for Pokiri and who made a mini-comeback with iSmart Shankar fails so badly, it feels like a double disaster. Like that earlier scene I talked about, the entire movie is a series of ideas for scenes, ideas that are not fleshed out at all. There is a great idea for a scene where Taniya talks about how guys cannot handle a breakup. There's a great idea for a scene where Liger imagines his opponent as the man who killed his father. There's a great idea for a scene where Liger, who stammers, says people will call a stammerer a stammerer – there is no self-pity, he has accepted the fact. But because the love angle is so badly written, and because Liger's father remains an abstract concept, and because Liger's stammer adds nothing to the character, these ideas do not impact us one bit.
Liger feels like a bad 80s-90s Tamil or Telugu movie where a song or a comedy track would be randomly inserted, without any care about the overall emotional arc. The mother, the girlfriend, the coach figure played by Ronit Roy, the strain of patriotism – nothing and no one registers, and neither does Vijay Deverakonda. How can you evaluate the acting when the screenplay is so terrible and the director doesn't seem to be looking through the monitor to see reaction shots? The film feels like a cruel joke on those who think "south films are better". It feels like it's been made to say "south films can suck big-time, too". A few weeks back,  I reviewed the Karthi-starring Tamil film, Viruman. It is a generic template-movie, but at least that template was adhered to faithfully. There was no innovation, but whatever was done was done with a bit of conviction. Even that bit of conviction is completely absent in Liger.

The biggest question on my mind was how Vijay Deverakonda signed this film. Whether you like this actor's work or not, you have to admit that he tries to pick scripts that are different. World Famous Lover did not work, but at least you could see the potential Vijay saw in it and why he was interested. But what did he see in this collection of cliches? Did he not see that the film is an excruciating - and very randomly put together - mix of action and romance? Did he not sense that the Mike Tyson cameo is unintentionally hilarious? Did he not see that the conflict points are abruptly cut off by badly placed songs? The film's best bit has the coach dismissing Liger's stammer. He says it's okay if your words come late, but your punches should land on time. But even the fights are boring, all chopped to pieces and giving little sense of actually being there. Like everyone in the movie, even the editor seems to have checked out. The title suggests a cross between two magnificent animals, but Liger feels more like a cross between some of the worst commercial movies ever made.
About Author
Baradwaj Rangan
National Award-winning film critic Baradwaj Rangan, former deputy editor of The Hindu and senior editor of Film Companion, has carved a niche for himself over the years as a powerful voice in cinema, especially the Tamil film industry, with his reviews of films. While he was pursuing his chemical engineering degree, he was fascinated with the writing and analysis of world cinema by American critics. Baradwaj completed his Master's degree in Advertising and Public Relations through scholarship. His first review was for the Hindi film Dum, published on January 30, 2003, in the Madras Plus supplement of The Economic Times. He then started critiquing Tamil films in 2014 and did a review on the film Subramaniapuram, while also debuting as a writer in the unreleased rom-com Kadhal 2 Kalyanam. Furthermore, Baradwaj has authored two books - Conversations with Mani Ratnam, 2012, and A Journey Through Indian Cinema, 2014. In 2017, he joined Film Companion South and continued to show his prowess in critiquing for the next five years garnering a wide viewership and a fan following of his own before announcing to be a part of Galatta Media in March 2022.
User Review