Ala Vaikunthapurramloo Movie Review
(2020)
Ala Vaikunthapurramuloo Movie Review
Release Date :
11-01-2020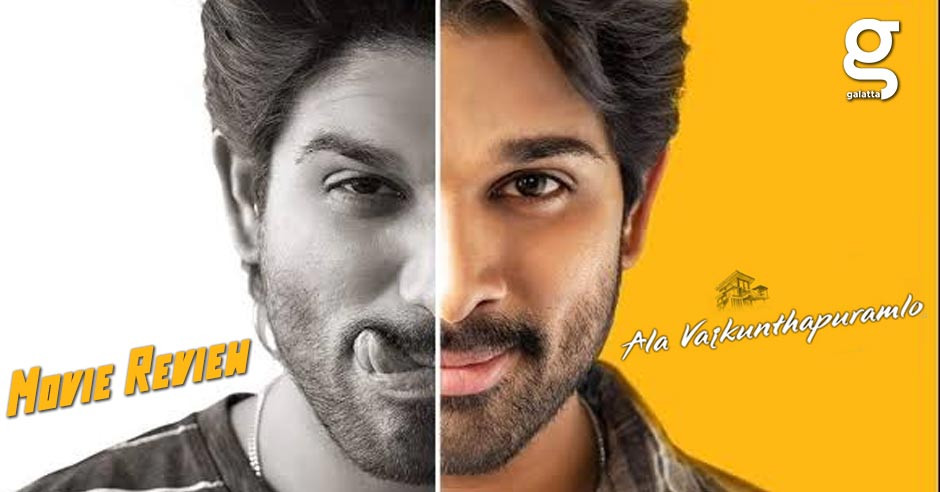 Banking on the ever-dependable Allu Arjun, Ala Vaikunthapurramuloo is an extravagant and stylish entertainer which is all about how Bantu finds who his real parents are and how he solves their issues. The obstacle that a hero faces is the true villain of any film; Bantu's struggles are big and solid which gives us an exciting storyline. Since it is a comeback of sorts for Allu Arjun, he has made sure that his fans are offered nothing but a perfect meal. Each and every sequence is well planned and effectively executed. Be it the songs, fights, dialogues and emotions, each and every aspect have been written keeping Bunny in mind. There are 4 to 5 action sequences, all choreographed in a different manner. Trivikram scores with all his punch dialogues, he has placed the mass scenes so well between the emotional sequences. The audience will surely scream once every ten minutes, that's how well-written is the screenplay of Ala Vaikunthapurramuloo. 
 
The romantic episode with Pooja Hedge again was very well-etched out, thanks to some kickass tunes from SS Thaman - Samajavaragamana, Ramuloo Ramulaa, Butta Bomma, the title track, almost all the songs were brilliant musically as well as visually. One of the fights had a beautiful song as a background score which elevated the style and mass of Allu Arjun. SS Thaman's songs have already given a facelift for this film and his BGM too were extraordinary. He is the man in form and we hope he keeps up the momentum. Pooja Hedge is the typical commercial cinema heroine who makes glamorous appearances in the songs and is also there for some comic relief. Her stylish costumes and sexy appearance are a nice distraction from the emotional main plot.  
 
PS Vinod's camerawork is flawless and has captured the style and grace of Allu Arjun very well. Navin Nooli's editing is seamless and makes sure that the movie is not boring one bit even though it runs over 2 hours and 40 minutes. On the downside, there are a few superficial scenes in the film, Sushanth's characterization was very weak. Trying to increase the mass of Allu Arjun, they had to make Sushanth look like a fool. Actors like Navdeep and Nivetha Pethuraj were wasted, they hardly had any scope to exhibit their talent. Samuthirakani looked like a nice matchup for the invincible hero, the scene where he stabs Jayaram and how Allu Arjun tries to save overcoming those hurdles, that scene was so cleverly made. Samuthirakani carried different mannerism and when Allu Arjun imitates that, he makes sure that he brings down the roof. But the main villain of the film Murali Sharma as Valmiki, though you might question his actions, his characterization was very consistent. He is one person who can be a menacing villain at the same time make a scene lively. He has done both in this film, do watch out for his special expressions. 
 
Coming back to our main man Allu Arjun, he looks ever-youthful and macho, his prowess at dance and fights is well-known and Trivikram has packaged and presented the movie perfectly in sync with AA's skills at the commercial cinema. The board meeting scene will be a royal treat for Allu Arjun's fanatics. Allu Arjun's costumer and stylist deserve a big round of applause for making the star dazzle in a suave manner with stylish and trendy clothes. To wrap it up, Ala Vaikunthapurramuloo has everything that you expect from an Allu Arjun film.
Verdict: A wholesome commercial treat! Allu Arjun is back with a bang!!!
Galatta Rating: (
3

/5.0 )
User Review
Ala Vaikunthapurramloo Movie News