Galatta |

19/09/2019 05:00 PM
One of the most expected events of this year is happening today. The audio launch of Thalapathy Vijay's Bigil is happening today at the Leo Muthu Auditorium, in Sairam Engineering College. We are bringing to you all the happenings from the event, as LIVE updates here! 
* The Bigil album has been launched and this brings us to the end of the #BigilAudioLaunch! Thanks for following us here for all the LIVE updates! Do return to our website for special articles on this grand event! Thanks!
* The entire Bigil team gets on stage with Thalapathy Vijay to launch the audio album along with special football souvenirs!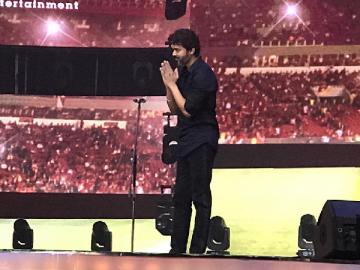 * On the #PrayForNesamani & #SaveNesamani trends, Vijay says that he couldn't control his laughter on seeing the tweets. He adds that he couldn't control his laughter even at the shooting spot but mentions that Suriya finished the shot properly by controlling his laughter! Vijay also mentions that Friends is one of his all time favourite movies!
* On politics & sports, Vijay says, "Play all you can in politics but don't bring in politics into sports!" He adds, "You can tear my photos and banners and do what you want with them but please don't do anything to my fans and followers!"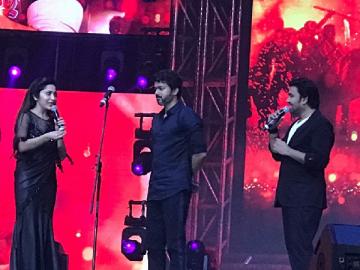 * Vijay - "Don't try to be like any other person. They are there for that. Come out as yourself. You have to succeed individually. That is true success!" Offering his condolences to Subashree's parents, Vijay pays his last respects and prays for her soul to rest in peace. He says, "Use your social media and trending power to arrest the original culprits in this case. What is the use of arresting the poor guys who printed the banners?"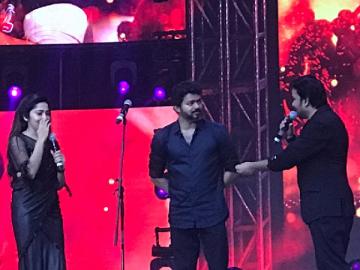 * On singing Verithanam song, Vijay - "I sang a sample of the track and sent it to Rahman sir but he was then in Mumbai and when he didn't respond, I though that was the end of it. However, Atlee later called me and told me that Rahman sir had asked me to come for the recording. It was Atlee who motivated me to sing. I was surprised!"
* On social media trolling, Vijay says, "A little negativity online is ok, if it is just for fun but if it exceeds limits, then it is wrong. Once, when MGR was travelling by car, a minister spoke ill about Kalaignar Karunanidhi. MGR got angry and asked the minister get out of the car. Even if it is our enemy, we should respect them! Also, if you keep going beyond the limits, the very people whom you are doing these for online, will end up hating you." 
* Vijay - "I used to play football, almost every day after shoot. It used to help me learn the game better. Our life is also like football only. We will try to get a goal but a whole group of people will come to stop you and at times your own teammate will put a same-side goal!"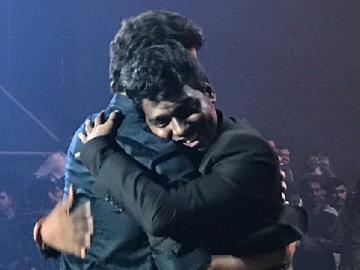 * Vijay states, "I'm very happy that in a movie on women empowerment where women will win, Nayanthara - who has won in life, is a part of it! Suda suda aavi parakkum - adhu idly naalum seri, Atlee naalum seri!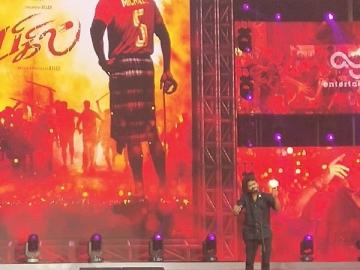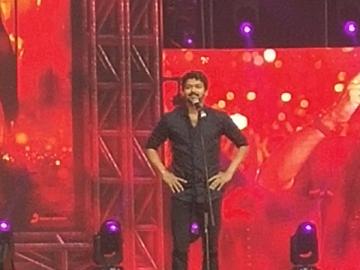 * Thalapathy Vijay begins his speech by singing the 'Verithanam' song! 'Thank you Nanba... Thank you Nanbi... En Nejukkul Kudi irukkum..." He begins by praising the fans' energy - "Vera level-nga neenga! Vera level! In the whole world it is only you fans who appreciate a hard worker by placing him on a stage!"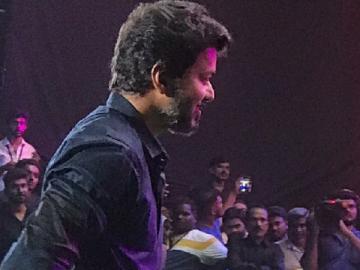 * Massive announcement! Atlee says, "The movie has been locked and will be sent for Censor soon. If possible, we will release the teaser of Bigil, in the first week of October itself!"
* Talking about the rest of the Bigil team, Atlee says, "Kathir will become a huge star. GK Vishnu will do his next movie also with me only. I seriously appreciate Antony Ruben's talent. Even if I give him three movies' worth of footage, he brings it all together in just 1 movie's runtime, without losing any flavour. If you find the football matches in Bigil to be of world quality, art director Muthuraj is the main reason for it!"
* Replying to troll memes over his colour, Atlee says, "Both Black & White are just colours. They are equal. Similarly, Hindi and English are just languages, not knowledge!" Talking about AR Rahman, he says, "Rahman sir is like a God for me. I just cannot see myself creating any music without him!" He adds, "Women are the most powerful. We are nothing without them. They are the base for all my movies. I get emotional about crimes against women. Bigil will be my best written film, so far!" Talking about his haters, Atlee states, "Many people say I copy from other movies and some people say that I shouldn't have gotten such a beautiful wife. However, winning over all of them is the real game and my family supports me unconditionally, in this challenge!"
* Talking about Thalapathy Vijay, Atlee says, "I wore my lucky shirt from Raja Rani, while going to narrate the story of Theri and the movie became a hit. But, the shirt did not fit when I went to narrate the story of Mersal, so I wore a different shirt! Only after Mersal's hit did I realise that it is not the shirt but Vijay anna, who is my lucky charm! I will not go away from Vijay anna as all the heights that I have achieved is because of him only! Mersal was double of Theri and I want Bigil to be triple of Mersal!"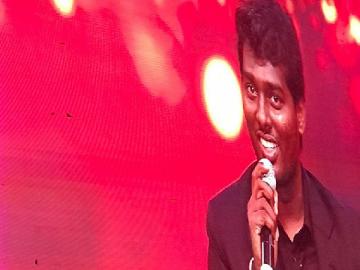 * There are reports that Bigil teaser will be released towards this month end!
* Director Atlee states, "After Mersal, I got a lot of opportunities but whichever story I wrote, I could only picturise Vijay anna in it. We have made each and every scene in Bigil with extra care. The movie has come out wonderfully! Nayanthara is my akka and her character's name in this movie is Angel. Archana akka and me fought a lot. We became like a regular brother and sister and whenever we fought we would go to our father - Aghoram sir! Archana is the first Singa Penn of Bigil!" 
* Archana Kalpathi states that Bigil is very close to her heart and emotionally thanks Thalapathy Vijay for his hard work in the movie. She adds, "We waited for 6 years to work with Thalapathy! Vijay sir understood that even a single day break will cost the producers heavily and at times even worked till 2.00 am in the night, despite shooting for football scenes at 40 degrees in the heat and come back to shoot the next day morning at 7.00 am!" Kalpathi S Aghoram states, "Bigil will be like a Baahubali among sports movies!"
* AR Rahman and Shashaa Tirupati's massive 'Singapennae' performance at the Bigil Audio Launch!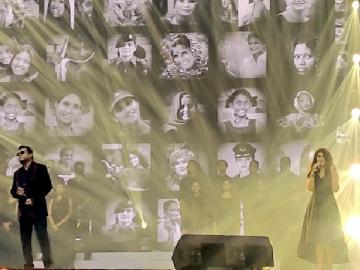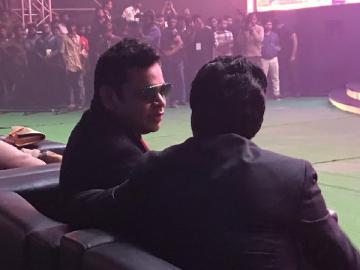 * AR Rahman says, "Vijay superhero kum oru padi mela! During the recording sessions, we just used to smile at each other." Responding to Ramya's question of how 'Verithanam' got made, Rahman says, "The people are asking for such Tharalocal songs and we have to provide it to them!"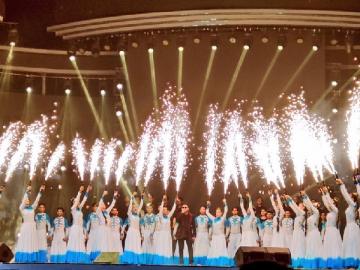 * Chinmayi and two other singers perform 4th track from Bigil Album - 'Maadhare'. A soulful emotional song!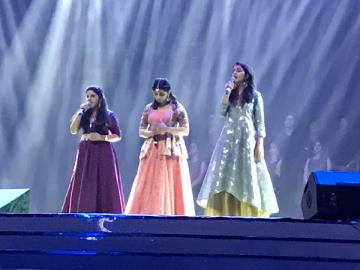 * Record: #BigilAudioLaunch becomes the first ever audio launch hashtag to cross 1 million tweets on Twitter!
* Isai Puyal AR Rahman starts his LIVE performance with the melodious 'Unakaga' single! All lights go off for his performance!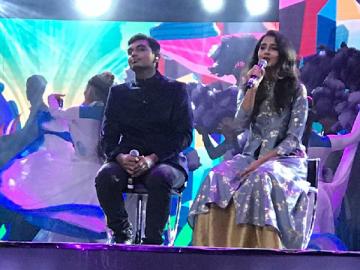 * Little Poovaiyar dedicates a Gana song to Thalapathy Vijay, with lyrics written by himself! The song goes, 'Annan irukaaru vera enna venum', performed to the tune of #Verithanam, in front of AR Rahman and Atlee!
* Mozart of Madras AR Rahman to perform LIVE at the Bigil Audio Launch!
* Robo Shankar introduces his daughter Indraja on stage and says that she was brought into the Bigil team after seeing her TikTok videos. He says that when he enquired her about her balancing  her studies and acting, she replied, "Vijay Anna kaaga naa endha risk'um edukka thayaar!" He adds, "Vijay sir said, not just your girl but I will definitely take good care of everybody's daughters!"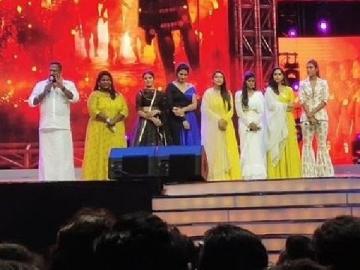 * Actress Indhuja says, "Vijay sir picked up expert football tricks that too like a true football professional, within just 2 to 5 mins. I really admire his focus! I'm always a Vijay sir fangirl. Avara paathale suthi podanum pola iruku enakku!"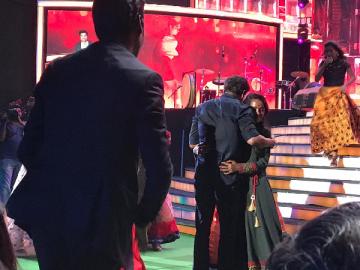 * Varsha Bollamma on stage, says, "Thalapathy Vijay sir's football skills are amazing. Wish I had such a coach in my school days. If I had had a coach like Vijay sir during my school or college days, I too would have become like a Sania Mirza. Thank you Vijay sir, for being such an awesome coach!"
* The Singa Pengal of Bigil take to the stage! One of the real-life football players who is a part of Bigil says, "My dream was to play football for the country and I did that at the Asian Games. Another dream was to meet Vijay anna and that happened through Bigil! In one emotional scene, Vijay anna is like the god that comes in the grand temple car!" Another player states, "We salute the producers, Atlee sir and Thalapathy Vijay sir for coming forward to make such a movie!"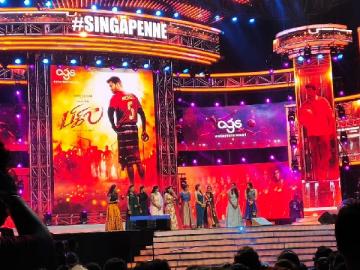 * Yogi Babu on stage, says, "As I usually state, Anna - vera level! The one thing I love about Vijay anna is his beautiful smile! While shooting for the movie, Vijay anna used to tell - 'Un kooda nadichadha vida, un dupe kooda dan neraya naal nadichen pa' (he shot for more days with my dupe, than with me)! Nayanthara calls me anna in the movie!"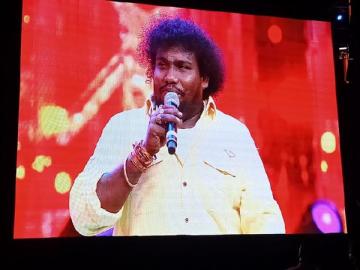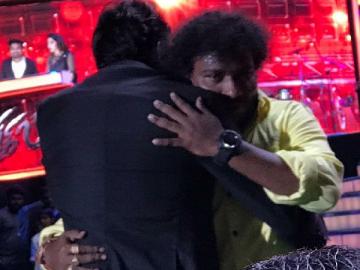 * Choreographer Shobi master says, "The visual expectations on #Verithanam are huge. We've done our best. Even if I manage to do only an ordinarily decent job, Thalapathy Vijay will take it to a different level with his moves!"
* Professor Gnanasambandam says, "Not only do I play Nayanthara's father but I am also Thalapathy Vijay's father-in-law, in this movie! Vijay has happily told that he would meet all my family members, one day! I am waiting!"
* AR Rahman's son AR Ameen is spotted at the #BigilAudioLaunch!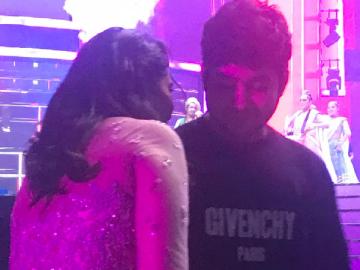 * Talking about Vijay's career, actor Vivekh says, "First they ridicule you, then they oppose you! Finally, they accept you! This is the rise of the leader! If you want to shine like the Sun, you have to burn like the Sun and that is what Atlee has done! His work and the world class football experience that he has given, will be stunning. Vijay sir is brownish black but Atlee is truly black!"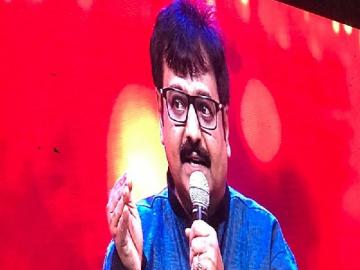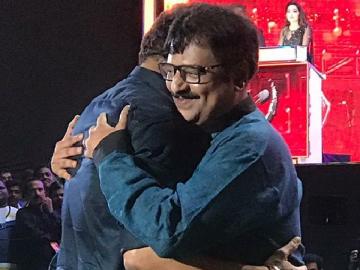 * Actor Vivekh adds, "This #BigilAudioLaunch has drawn the max crowd after #Athivaradhar dharisanam. After Athi Varadhar, I'm seeing the maximum crowd here at this event only. I was stuck in a traffic jam for nearly 3 hours. Crazy crazy crowd outside this place. Enna MASS'nga Vijay thambiku! Thalapathy Vijay has given a 'mahathuvam' and 'mandhirasakthi' to the lines 'Yen Nenjil Kudi irukkum'! I have seen Vijay in 7-8 films so far, and he is still the same even now. Success always gives a high to people but somehow, Vijay has never been affected by it!"
* Actor Vivekh, who is coming together with Thalapathy Vijay after 11 years, starts off with, "Don't worry, be happyyy!"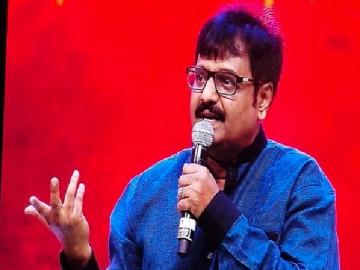 * Rangarajan of AGS Entertainment states, "Our entire production house was touched when Thalapathy Vijay presented 400 gold rings to the cast and crew of Bigil!"
* Actor Daniel Balaji says, "I've known director Atlee for nearly 20 years. I am happy that he included me in this movie!"
* Actor Manobala says, "I don't even want a scene! I am ready to act with Vijay sir, even if it's just in a single shot! His films have all the elements to attract all type of people and his movie's songs are the best medicine for depression! I play a college professor in Bigil."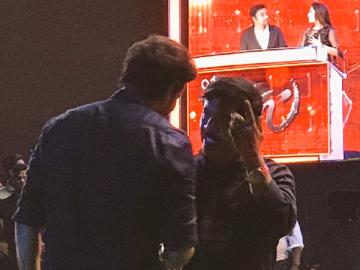 * Actor Kathir says, "Thalapathy nenjil kudiyirukkum Nanbas ku vanakkam! This is the first time that I am seeing such a crazy crowd! I attended the last 3 audio launches of #ThalapathyVijay. From sitting somewhere in the back rows, I'm now sitting right next to him as a part of his film Bigil. Unga positivity vera level na, enakku ungala manasaara romba pudikkum. #Bigil enakku bumper lottery! Bigil is an international football film and Vijay sir vilayaadirukkaaru! Vijay anna is the symbol of all his fans love! I see all your love in him. Adhu oru Verithanam nga! Atlee sir's efforts are 200%! For nearly 100 days, he has worked tirelessly, sleeping in his car at nights! He is great!"
* Sangeetha Vijay joins our Thalapathy at the Bigil Audio Launch!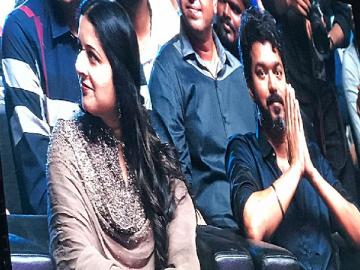 * Thalapathy Vijay waves at his fans...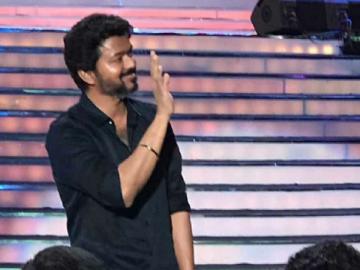 * Lyricist Vivek responds to meme stating he is proud to be mentioned alongside such a star like Thalapathy Vijay!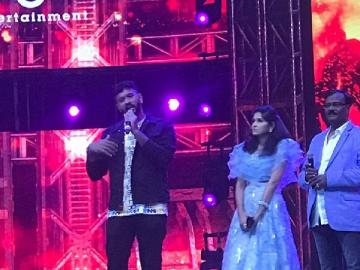 * Meme displayed on stage, equating MGR-Vaali, Rajini-Vairamuthi and Thalapathy-Vivek!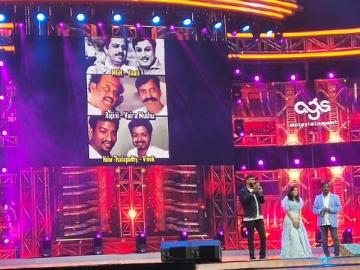 * Actor Kathir arrives at the #BigilAudioLaunch!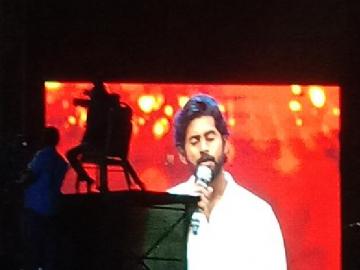 * Check out our LIVE Audio update of the #BigilAudioLaunch!
* Lyricist Vivek starts off with some slogans for Thalapathy Vijay and his fans and says, "It took me 3 hours to reach the venue, despite staying very nearby. Six Thalapathy fans helped me and escorted me to the venue safely! Thalapathy has a Gaandha Sakthi in his eyes that attract his fans so much! They do so much good for the society. I dedicate the 'azhukku' and 'karuppu' lines from #Verithanam to director Atlee's amazing hard work! I am astonished by Thalapathy Vijay's generosity in sharing screenspace with so many women, in Bigil! He has lived like a LION amidst all the 'Singa Penngal', in Bigil"
* Art Director Muthuraj Thangavel says, "For the first time in the world, an extensive stadium set has been erected for Bigil! Despite trying very hard for the older look, Thalapathy looked young only always. Finally we managed something convincing and when we went for the first day's shoot, Thalapathy Pirichittaaru!"
* Editor Antony Ruben states, "When you make a sports film, you have to known the sport well. However, football is a lesser known sport here. I have now learned even the fine details of the game and am enjoying it all the more, now!"
* Writer Ramanagiri Vasan says, "We only write the dialogues but the punch in them is delivered by Thalapathy only! He converts our dialogues into magic and takes it forward with a responsibility! His dialogues in Sarkar made the whole of India sit back and take notice!" He adds, "The father portion in Bigil is my favourite but the college portions that Vijay has done are fabulous! Nobody else could have done that! I have not written dialogues for an actor but for the THALAPATHY!"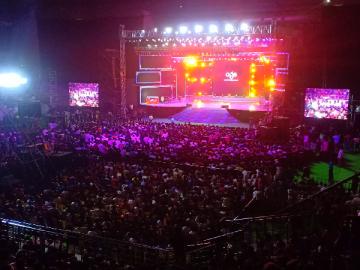 * Bigil DoP GK Vishnu says, "It doesn't matter how many movies we make, only what movies we make matters!" He says that Bigil will bring about a change in the society and adds, "Thalapathy Vijay's voice in this movie will create ripples in the society - avaroda aattamey vera!" "I've known Atlee for 10 years and he gave me a life changing movie with Mersal. He is such an inspiration for the young generation. Bigil is his biggest and best film yet. People can talk a thousand things about him but Atlee has given a wonderful product and his growth is phenomenal!" Vishnu's final words, "Naanum andha last speech ku dhaan waiting," sends the crowd erupting!
* Anandaraj says, "Bigil is dedicated to all the women out there!"
* Vijay stands, turns towards the fans and waves his hand! Shiva says, "Anna, you just wave your hand, all your fans will pour their love!"
* Anandaraj says, "If I struggle for little longer, I will even get to work with #Ilayathalapathy Sanjay. Vijay's fans have to decide where he will be (hinting at bigger stages), by that time!
* Varsha Bollamma has arrived at the #BigilAudioLaunch.
* Anandaraj on stage at #BigilAudioLaunch! He says, "En thambi oda vizha idhu!" He adds, "Earlier, we were like "Annan Thambi" but after Bigil, we are like friends! I would also like to work with Ilayathalapathy Sanjay, in the future!" Anandaraj also states, "Vijay used to call me Anna before but now we call each other nanba!" He also states that the noises made by Thalapathy Vijay's fans for their star will be heard beyond the state, country and even our continent!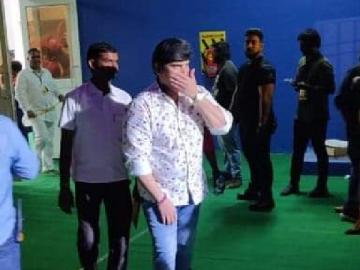 * Mirchi Shiva will be co-hosting the #BigilAudioLaunch with VJ Ramya!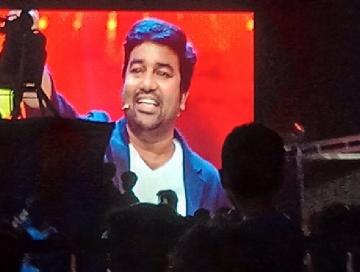 * Check out these latest pics of Thalapathy Vijay at the #BigilAudioLaunch!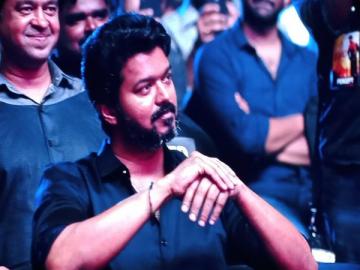 * Massive Entry: Thalapathy Vijay himself has arrived, sporting a Black shirt, at the #BigilAudioLaunch venue!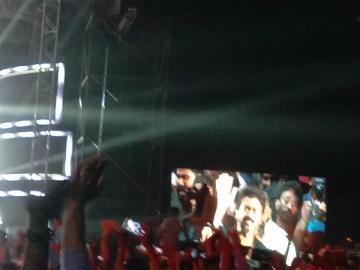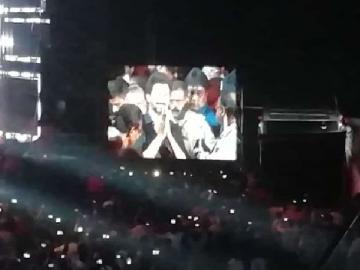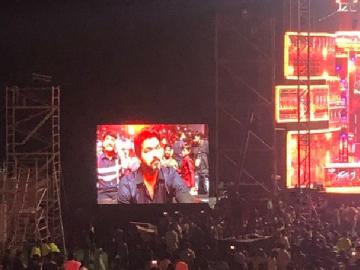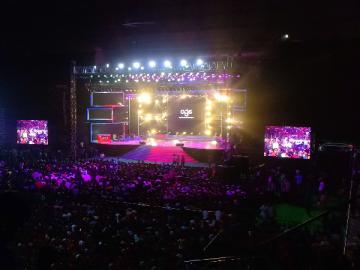 * Thalapathy Vijay's father SA Chandrasekar and mother Shoba Chandrasekar arrive at #BigilAudioLaunch venue!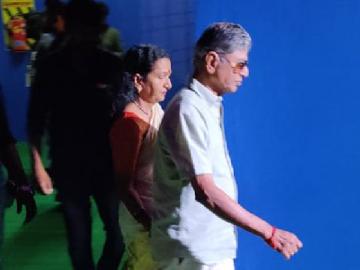 * Massive: Director Lokesh Kanagaraj is attending the #BigilAudioLaunch!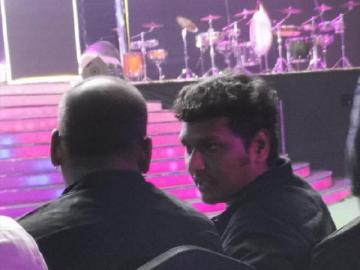 * Baby #PranujaSaraha from #Verithanam lyric video has arrived at the #BigilAudioLaunch venue!
* Villain #JackieShroff arrives at the #BigilAudioLaunch venue!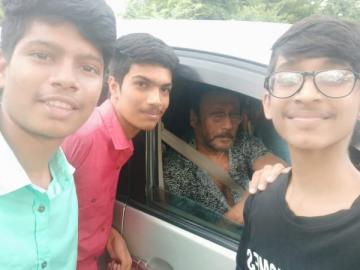 * The audio launch stage has been designed like a football field!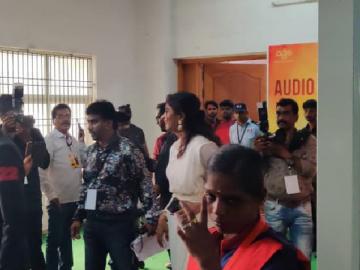 * Super Singer Poovaiyar has also arrived at the #BigilAudioLaunch venue!
* Mashups of Thalapathy Vijay's old movies BGMs currently being played at the venue!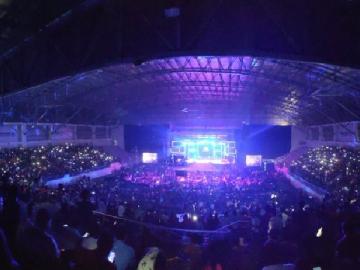 * Director Atlee and Creative Producer Archana Kalpathi of AGS Entertainment have arrived at the venue!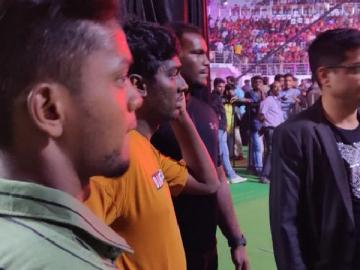 Keep watching this space for all the updates...