Review By :

Galatta Review Panel

Release Date :

31-05-2019

Movie Run Time :

02.21 Hrs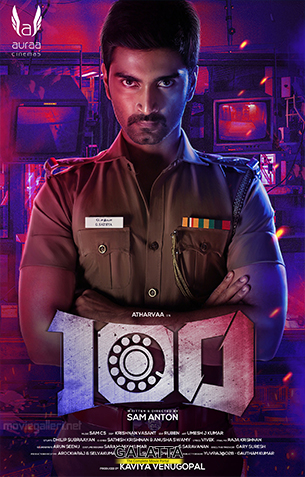 100 Movie Cast & Crew
Cast :
Yogi Babu,Atharvaa Murali,Hansika
Production :
Auraa Cinemas
What happens when you dial 100? Many of us would have heard lectures to use the emergency helpline number 100 during times of distress. Calls made to 100 would be received by a police officer from the control room. Atharvaa in this film plays the role of a Sub-Inspector who attends calls made to the 100 helpline. It is something similar to what Mahesh Babu does in Spyder.

Atharvaa is a newly appointed SI who wishes to be the heroic type cop but unfortunately, he ends up doing a desk job in the Police Department. How his 100th call makes a huge difference to his career? How one case changes him from a young boy to a strong man? 100 talks about that episode of a newly appointed cop's life. Just like most recent police stories, this too talks about drug and human trafficking. The core concept is filled with a lot of logical loopholes and dramatization but 100 definitely has a few highpoints to look out for.
Talking about our hero Atharvaa, his stunning and flawless physique adds so much of originality to the role of a policeman. His controlled acting needs praise and action sequences are just the platform for him to excel and shine. Atharvaa's tailor-made presence provides the intensity to the story that it needs. However, he needs to work a bit on his comedies and romance but he is not the only person to blame here. The love track in the first half was never needed for this script, and we're glad Hansika wasn't used in the second half.
If Yogi Babu's duty was to evoke laughter and bring in a lighter vein to the plot, sadly, it has not succeeded. Maybe it clicked in a scene or two but Yogi Babu was wasted on most occasions. Radha Ravi is an interesting addition; he is a delight to watch when offered a role that challenges him to perform. Cheenu Mohan has as usual delivered his best, earnestly. Naren serves the purpose with nothing much to complain about.
With a lot of time spent on establishing the foreground of the story, 100 picks up pace only before the pre-interval mark. The second half looked way better and does arrest our attention almost till the very end even though we might predict some of the twists well in advance. The climax twist looked force-fitted and unconventional. Though it wasn't predictable, we tend to question the logic behind it. If you do not question the sensibilities behind it, there shouldn't be a problem sitting through.

Talking all bullshit right through the film and just having a social message during the flag end of the film makes no sense. Sadly, most Tamil films follow this practice to attract people; 100 is no different.
Krishnan Vasant's glossy camera work has given a big facelift to the film. Sam CS's thumping background score elevates the scenes while sound design creates a strong aura. The duet song and Atharvaa's intro track could have easily been done away with, to make the film crisper and to the point.
Verdict :A commercialized cop film that is filled with logical loopholes
Galatta Rating: ( 2.25 /5.0 )
Public/Audience Rating
100
100 is a Telugu movie. Yogi Babu,Atharvaa Murali,Hansika are part of the cast of 100. The movie is directed by Sam Anton Music is by . Production Auraa Cinemas.