Yaar Ivan Movie Review
(2017)
Yaar Ivan directed by T.Sathya the cast Sachiin, Esha Gupta. Read more about the Yaar Ivan movie and audience ratings.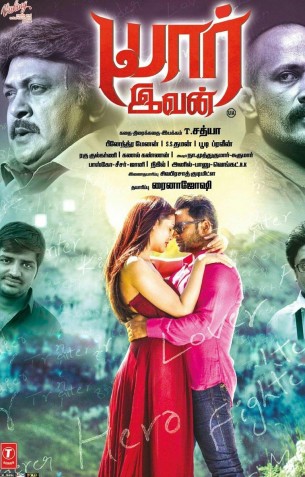 Movie Review
Making a bilingual movie that is appealing to both Tamil and Telugu audience is a very complicated task that director Tatineni Satya has brilliantly handled in the movie Yaarivan.
Right from the first promotions, the team promoted it as an action thriller and it was a welcome relief to see what was exactly promised in theaters. A pillar of strength for the movie is its hero Sachiin Joshi who has donned an excellent character for his debut film in Tamil. Even though, the role might look very reserved and silent throughout the film, a lot of thought has been put into it which is justified through the climax.
Yaarivan doesn't waste any time in establishing its characters right from the beginning. While the commercial elements of comedy by Sathish and songs shot in foreign locales are there, they are neatly packed into a bundle so that the story continues unabated. Sachin falls in love with Esha Gupta at first sight and decides to marry.
During his honeymoon in Goa, Sachin murders his newly wed wife Esha and is convicted of being a criminal. Kishore is assigned the task of solving the case who looks deep into the life of Sachiin and his mannerisms in the past. Meanwhile, the hero also has a personal problem with the jailor who wants him to play a match of Kabbadai, because Sachiin also happens to be a pro Kabbadi player.
Screenplay by Kannan and Tatineni is what keeps Yaarivan a thrilling ride with some occasional twists and turns. The director has done an excellent job in balancing the movie so that it doesn't look like a bilingual. Characters played by Sathish, Delhi Ganesh and Prabhu add authenticity to the movie even though they have limited screen space.
Out of the lot, Kishore impresses everyone with his cop-like body language and the poised manner in which he investigates the case. For a first timer, Sachiin has balanced his role very well and lip syncs in most scenes. Esha Gupta looks beautiful and apt while Yaarivan's success also lies in its visually pleasing cinematography by Binendra Menon and the appealing locations.
Goa looks gorgeous as ever which when combined with the authentic costumes, sets and background score. The movie's occasional lip sync issues with some actors and over the top dialogs is something you can easily brush off. Yaarivan is a thriller that sticks true to the genre and delivers an engaging watch till the climax.
Thumbs Up
· Sachiin Joshi shines as an actor and ably carries the script with his emotions
· Supporting actors like Kishore and Sathish did their part very well
· Brilliant camera work and locations in Goa makes for a pleasant watch
· Twists and turns in Yaarivan are naturally woven into the screenplay without looking out of place
· Background score is peppy
Thumbs Down
· The occasional lip sync issues may slightly hinder the experience
· An item song towards the climax could have been skipped
Verdict – A well-made thriller that's appropriately supported by a screenplay that keeps the suspense intact till the end.
Verdict
A well-made thriller that's appropriately supported by a screenplay that keeps the suspense intact till the end.
Galatta Rating: ( 3.5 /5.0 )
Public/Audience Rating
TAGS : Yaar Ivan Review, Yaar Ivan Movie Review, Yaar Ivan Audience Ratings, Yaar Ivan Film Review