Sketch Movie Review

(2018)
News | Review | Wiki | Gallery
Review By :
Galatta Review Panel|
Release Date :
2018-01-12 |
Movie Run Time :
:: |
Censor Rating :
0
| Publish Date :
2018-01-11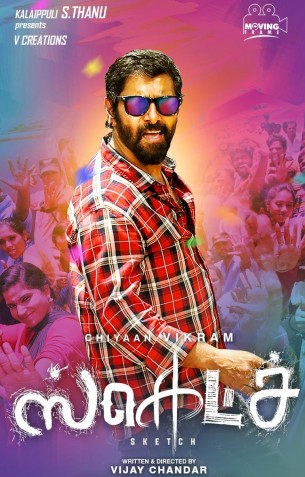 Sketch Movie Cast & Crew

Cast : Vikram,Tamannaah,Soori,Radha Ravi,Sri Priyanka
Production : V Creations | Director : Vijay Chandar | Lyricist : Kabilan | Cinematography : M. Sukumar | Music Director : S S Thaman
Movie Review
Sketch is an action thriller film directed by Vijay Chander under Kalaipuli S. Thanu's V Creations production banner with music by S. Thaman. Starring Vikram and Tamannaah in lead roles, the film also has a supporting cast featuring names like Ravi Kishan, R. K. Suresh, Hareesh Peradi, Sriman, Soori, Sri Priyanka, Meghali among others.
If you are looking for a film that has action written top to bottom from start till end, Sketch is the one you should be watching. The film's title is predominantly the theme of the entire story where we are introduced to Vikram's character as someone who sketches out plans to lift cars that have fees default on them and delivers them to his friend and associate, Hareesh Peradi. Tamannaah is introduced into the plot as Vikram and his friends continue engaging in such heists and that is when Hareesh and Vikram decide to lift one particular car that has a backstory. This car owned by the film's antagonist is the fulcrum of the plot and the subsequent events as a result of this sketch is the stimulant for the outcome of the rest of the story.
What works exceptionally well for Sketch is the manner in which the script has been churned out. There are several edge-of-the-seat moments in the film written by director Vijay Chander that will leave you wanting for more and few unexpected moments that will leave you outright surprised in a good way.
In terms of performance, the cast has performed quite well. If at all one decides to find a flaw in Vikram, Tamannaah or any of the supporting cast members' performances, it will only end up as a failed move since they have all embodied characters rather than go overboard in personifying them and that has worked best for the film.
One of the biggest strengths of Sketch will be its supporting cast as each of them have an important role in the story. The way the plot has been written includes all these characters getting equal importance and that is a bit too difficult to incorporate in terms of storytelling and is a daunting task when it comes to an action gangster flick.
The action car chases in the film are a highlight in terms of cinematography by Sukumar, who has put his own stamp in such scenes. Be it the songs or the general progression of the story, he has elevated the film to good heights.
Although Thaman songs are enjoyable, it is in the background score department he has excelled and steered the film forward with music that compliment the overall tone of the story.
Ruben's editing is top-notch to put it short as he has understood the pulse of the film quite well and has delivered to the expectations of what the script and the screenplay would require. His cuts are not jarring in any way and that is a prime aspect budding and aspiring editors need to keep in mind in the days ahead.
In terms of what works the best for Sketch, it has to be the script and especially the climax which will leave you surprised. When the viewer is led to believe that certain individuals are behind the oncoming events in the film, we are given a big surprise in the form of unexpected characters rising to take the spotlight. The phrase "pay attention to detail" gains prominence here and you will know why when you watch the film.
Thumbs Up

Rock solid performances from the cast
Bombshell climax
Neat script
Stellar cinematography
Thumbs Down

Logic needs to be ignored on few instances
Verdict - A perfect mass entertainer for these holidays
Verdict
A perfect mass entertainer for these holidays
Galatta Rating: (

3

/5.0 )
3
Rating
Vikram's Special Effort For Saamy Square A...
The Link Between Ajith's Viswasam And Vikr...
A Raw Attraction In Vikram's Sketch
A Smart Asset In Vikram's Sketch
How Tamannaah Provides The Balance To Vikram In...
Vikram Talks How Sketch Differs From Other Comm...
TAGS : Sketch, Vikram, Chiyaan, Tamannaah, SS Thaman, Vijay Chander, Kalaipuli S Thanu, V Creations, Sri Priyanka, Soori, Meghali, Radharavi, Vela Ramamoorthy, Sriman, Ravi Kishan, R. K. Suresh, Hareesh Peradi,