Galatta Review Board
Release Date :

18-05-2018

Movie Run Time :

2:10:0 Hrs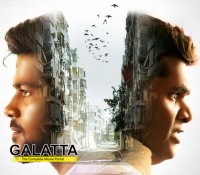 Seyal Movie Cast & Crew
Cast :
Chammak Chandra,VIS Jayabalan,Tharushi,Rajan Tejeshwar
Production :
CR Creations
Cinematography :
V Elayaraja
Story Writer :
Ravi Abbulu
Music Director :
Siddharth Vipin
Seyal is a Tamil action movie directed by Ravi Abbulu. Seyal Movie features Rajan Tejeshwar, Tharushi and Chammak Chandra in lead roles. Seyal Movie is produced under the CR Creations banner with music by Siddharth Vipin.
The story starts off showing Chammak Chandra, the villain, having a stronghold of a local market and gets done things accordingly as and when he needs anything to be done.
We are then introduced to the hero, Rajan Tejeshwar, a happy-go-lucky youth having a jolly life. One day Rajan goes to this market to purchase household provisions and decides to use the public loo to relieve himself. However, a set of goons then come and demand he pay for using the loo when in fact it is free of charge and has been built for public use. 
It is at this point Chammak Chandra comes face-to-face with Rajan Tejeshwar and a fight ensues between the two where the hero thrashes the villain left and right leaving him to be a laughing stock in front of his own people in the market. Chammak realizes the only way to acquire the lost respect will be by getting back at the hero at the same place and decides to see his guru, VIS Jayabalan, and the two then begin to make a search for the hero and manage to find his home and realizes he is now in Kerala with his lover, Thaurshi.
A flashback is then shown where Rajan has been in love with Tharushi since his school days and manages to befriend her in Kerala. We are then shown the villain making pursuits to seek his lost respect by going full out against the hero. The rest of the story revolves around whether the villain manages to accomplish his wish, but with various humorous twists and turns.
Director Ravi Abbulu has attempted to tell a story that lays ample focus on the desperation a rowdy would go through on the face of humiliation. The screenplay is simple and quite promising at times with plenty of loaded humor.
On the technical front, V. Elayaraja's cinematography is top-notch, who is amicably complemented by R. Nirmal on the editing front. Likewise, one of the biggest strengths of Seyal includes the stunt choreography Kanal Kannan, who has gone full out by projecting the hero in an action avatar. Siddharth Vipin's songs are enjoyable, but he comes on top in the background score department.
On the performance front, hero Raja Tejeshwar has the looks of a sprightly exuberant youngster, but needs to work on his voice modulation. Tharushi appearing as a pleasant treat to our eyes has put up a decent act. Chammak Chandra's histrionic skills are put to good test and he has delivered a satisfactory performance.
Thumbs Up
Simple story that lets you slip into the moments seamlessly
Performances of the lead stars
Action scenes are a good treat
Thumbs Down
Screenplay takes a slight drag
Verdict :A simple film that can be viewed at your own leisure
Galatta Rating: ( 3.2 /5.0 )
Public/Audience Rating
Seyal
Seyal is a Tamil movie. Chammak Chandra,VIS Jayabalan,Tharushi,Rajan Tejeshwar are part of the cast of Seyal. The movie is directed by Ravi Abbulu Music is by Siddharth Vipin . Production CR Creations.