Galatta Review Board
One Heart - The A.R.Rahman Concert Movie Review
(2017)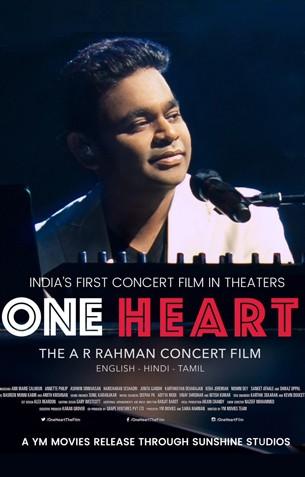 Music fills the air right from the word go and seldom we have seen a flick that begins with such posh, even though it's not a movie of its own. There are no actors or sets but it's engaging till the last frame which is a huge success for the Mozart of Madras, AR Rahman!
A lot of films by top directors in the past had looked flamboyantly good on screen because of AR Rahman's songs and background score. When One Heart, a concert movie is purely driven by the power of lyrics, musical instruments and mellifluous voices, it's not surprising to see his musical magic elevate every scene and the entire visual presentation on a whole new platform.
For Indian moviegoers, be it Tamil or Hindi audience, it's a welcome treat to see their musical icon up close and personal. The musician speaks from his heart as he shares the things that went through his mind, his 25-year journey, the first time he ever went on stage frightened about reproducing his own tracks live and so on.
The legendary AR Rahman has come a long way and One Heart stands proof to the musical perfection he has achieved through the years. If you love his composition, you are sure to lose your mind when the black screen opens with the iconic Dil Se Re and continues to throw one amazing song after another, to satisfy every type of musical taste!
A surprising element is that while the musical concert movie was supposed to be a one man show, Rahman introduces the exceptionally talented team right from his guitarist, drummer to the choreographer who brought the concert that took place in USA to life. You can often see the audience erupting in a huge uproar when the tunes begin and the same experience will be transferred to you through the screen when you watch the movie in theaters.
While it's quite pointless to try and find a flaw in this must watch flick, Tamil audiences and fans of AR Rahman may be slightly disappointed to find that many of them favorite tracks are missing in the concert. In one of the slides, he does explain that they had limited resources to work with and picking the best from 600 of his songs is an impossible task.
Cinematography in One Heart is top notch especially for a live event where there are no retakes, sound reproduction is phenomenal if you could watch it in a cinema hall equipped with Dolby Atmos and the earnings from the movie will go to the welfare of yesteryear musicians, that makes the entire One Heart Foundation's initiative a noble and entertaining one.
Thumbs Up
AR Rahman's candid speech and shots bring life to the concert movie. 
Sound mixing and sound engineering as a whole is one of the best in recent times. 
Excellent camerawork and editing keeps the 90-minute ride crisp. 
Thumbs Down
Obviously, some iconic songs may not be in the concert but it's hardly something to complain about
Verdict – A must watch musical concert movie for AR Rahman fans and music lovers alike! 
Verdict :Short Verdict - Masterclass Music Fest
Galatta Rating: ( 3.6 /5.0 )
Public/Audience Rating
One Heart - The A.R.Rahman Concert
One Heart - The A.R.Rahman Concert is a Tamil movie. are part of the cast of One Heart - The A.R.Rahman Concert. The movie is directed by Music is by . Production .