Mupparimanam Movie Review
(2017)
A clich������©d romance tale backed by excellent performances! Mupparimanam Directed by Adhiroopan the cast Shanthnu, Srushti Dange, Skanda Ashok, Ravi Prakash and Thambi Ramaiah etc.. ...Read more about the Mupparimanam movie and audience ratings.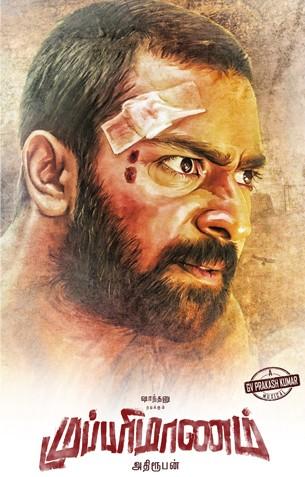 Movie Review
Shanthnu Bhagyaraj pinned his hopes on his previous film Koditta Idangalai Nirappuga, directed by Parthiepan. Though his performance was appreciated, it failed to create wonders at the box-office. Now, a lot of expectation is there for Mupparimanam, which is a love-thriller directed by Adhiroopan, a former assistant to director Bala. The film, which is inspired by a real-life incident is about the conflict between idealistic romance and the practical difficulties in today's world. Adhiroopan has also touched upon the concept of honour killings in his debut film.

THUMBS UP
Shanthnu has given it all in Mupparimanam. From sporting different looks to the expressions, this is easily his best role.

Srushti Dange has a winner in her hands. Her role becomes crucial to the script in the second half and she has performed with ease in the dramatic climax.

National award winner Vivek Harshan's cuts have made the story crisper.

The love portions in the first half make us go 'awww' and Adhiroopan's dialogues are a huge plus.

THUMBS DOWN
The screenplay becomes predictable at times which makes it a little stretched out.

Thambi Ramaiah needs to concentrate more on his humour sense and redeem himself soon.

VERDICT:
A cliched romance tale backed by excellent performances.
Verdict
A cliched romance tale backed by excellent performances.
Galatta Rating: ( 3.3 /5.0 )
Public/Audience Rating
TAGS : Mupparimanam Review, Mupparimanam Movie Review, Mupparimanam Ratings, Mupparimanam Story, Mupparimanam Review Galatta, Mupparimanam Film Review