Maragatha Naanayam Movie Review
(2017)
Gear up to laugh your hearts out!, Maragatha Naanayam directed by ARK Saravan the cast Aadhi, Nikki Galrani, Daniel Pope, Anand Raj, ArunrajaKamaraj and Kaali Venkat. Read more about the Maragatha Naanayam movie and audience ratings.
Review | Wiki | Gallery | Music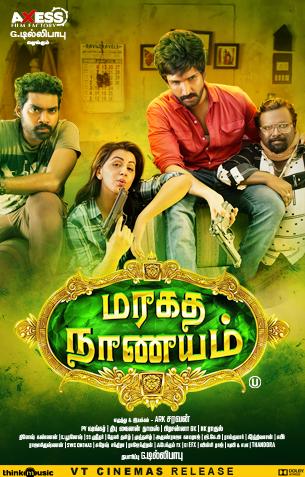 Movie Review
Establishing an interesting adventure plot begins right from the title card which debutant director ARK Saravan has done with a great opening. The movie's title Maragatha Naanayam reveals the plot as it's about a precious, valuable stone which has a very strong back story that dates back to the ages of the kings.

Once the initial story and the curse on the stone is revealed, MaragathaNaanayam travels a completely new route which is unique to Tamil cinema. The film's production house Axess Film Factory should be praised for nodding yes to an adventure comedy thriller. Quite different from the horror comedies that the audiences are used to these days!

Aadhi and Daniel Pope work for Ramadoss smuggling small time stones but when they decide to acquire the highly coveted Maragatha Naanayam, they should put their life on the lines. Meanwhile, their opposite team led by Anand Raj is also after it which is when a couple of cursed ghosts Arunraja Kamaraj, Kaali Venkat among others help them in this huge quest. Amidst all this, there's also his love affair with Nikki Galrani who has been skilfully added into the storyline.

Aadhi had done a couple of meaningful films in the past and the comedy adventure appropriately fits his underplaying demeanour. Nikki Galrani unlike the conventional commercial heroine goes out of her comfort zone to play a rugged girl and does her lip sync with perfection which is a must for her role. Ramadossshows a new level of comfortable acting irrespective of the varying scenes he is offered and Daniel Pope is at his level best. Supporting cast including Anand Raj, Mime Gopi, Kota Srinivasa Rao among many others make it a fun ride throughout the run time.

Director ARK Saravan's decision to not have any romantic interludes with the heroine or any unwanted songs is a great aspect for Maragatha Naanayam. The film has passable camera work and background music along with a story that keeps adding new surprises from time to time. The two hour and so run time also helps keep it tight. If there's a hiccup, it's the scenes that are mostly shot indoors and doesn't explore the adventure side of the plot.

With a lot of surprise twists and turns in the movie, it's tough to review many of the comical scenes and the scenarios in the movie. So, we will leave it at that so that you could enjoy the film in theaters.

Thumbs Up

• An adventure thriller storyline which is unique to Tamil cinema audience in these times

• Aadhi and Daniel Pope's combination works well on screen
• Nikki Galrani has come out of the conventional glamor shackles and enjoys a fun role that strengthens the storyline

• The entire cast, be it Ramadoss, Anand Raj or Arunraja have performed their roles to perfection without any compromises

• There aren't any songs making it a fun watch without any slowdowns

Thumbs Down

• The overall focus is more on comedy than the adventure ride the movie promised with a lot of indoor shots which could be slightly altered.

Verdict

Gear up to laugh your hearts out!
Verdict
Gear up to laugh your hearts out!
Galatta Rating: ( 3.5 /5.0 )
Public/Audience Rating
TAGS : Maragatha Naanayam Review, Maragatha Naanayam Movie Review, Maragatha Naanayam Ratings, Maragatha Naanayam story, Maragatha Naanayam Review Galatta, Maragatha Naanayam Film Review