Galatta Review Board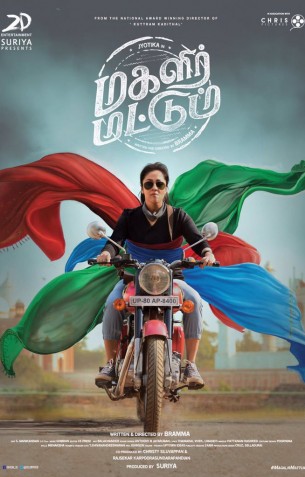 The title Magalir Mattum explains the kind of movie it is and right from the first frame, the entire script is about three friends and a young girl who brings them together after nearly four decades.
Before exploring the good and bad side of the movie, Jyothika as an actress and as a producer deserves an applause for continuing to make films that speak about liberating women in social life. But, Magalir Mattum as a movie despite all the noble intentions will be a huge disappointment for majority of movie goers because of the way it has been presented.
There's no second questions on how married women and elderly ladies would enjoy every minute of this fantasy flick where they picturize themselves as Oorvasi or Saranya who goes on a holiday. Director Bramma has chosen a promising script but it is in the overdose of messages where he failed big time, making it impossible for viewers to connect with the proceedings.
The two hour and twenty minute run time acts as a huge hindrance leading to a lot of filler scenes that doesn't make any sense and will test the patience level of viewers. A major portion of the second half is either characters talking one after the other inside a car or sitting on a chair, reminiscing their memories!
Jyothika plays a young and single woman who takes her mother-in-law Oorvasi for a ride along with her friends Saranya and Banupriya. All three are college buddies and their strong bond is shown in a flashback, in bits and pieces. The women taking a break from the male dominated household and living life for themselves for a couple of days is what Magalir Mattum is all about.
While music by Ghibran and camera work by Manikandan is soothing to the senses, the decision to make the film a monolog of throwing one social message after another in form of dialogs gets very tiring after some time. If they had represented it visually and through different characters, it would have been a great film to watch!
Jyothika looks fresh, charming and vibrant throughout the movie while Oorvasi steals the show with her comical one liners. Saranya, Banupriya handle their part with ease while seasoned actors like Nasser and Livingston makes you hate those characters, that stand proof to their performance.
Magalir Mattum has a strong message for husbands and sons which is plausible but the preachy way it has been narrated and the immensely long second half makes it a tedious journey.
Thumbs Up
·         Jyothika is charming as ever and floats through her character with ease
·         Veteran actresses Oorvasi, Saranya and Banupriya brings their roles to life with realistic performance
·         Lush locales are pleasant to watch
Thumbs Down
·         Too many social messages stuffed into one single movie makes it very tedious to watch
·         Most scenes in the flashback could have been avoided as it drags the run time without adding strength to the narration
·         Very slow second half with lots of filler scenes
Verdict – Genuine message delivered in a melodramatic, dull package  
Verdict :Genuine message delivered in a melodramatic, dull package
Galatta Rating: ( 3.2 /5.0 )
Public/Audience Rating
Magalir Mattum
Magalir Mattum is a Tamil movie. are part of the cast of Magalir Mattum. The movie is directed by Music is by . Production .