Kedi Billa Killadi Ranga Movie Review

(2013)
Review By :
Galatta Review Panel|
Release Date :
2013-03-29 |
Movie Run Time :
|
Censor Rating :
| Publish Date :
2013-04-05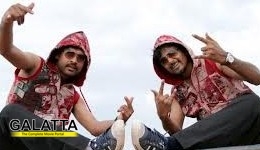 Kedi Billa Killadi Ranga Movie Cast & Crew

Cast : Vimal,Sivakarthikeyan,Bindu Madhavi,Regina Cassandra,Yuvan Shankar Raja
Production : Pasanga Productions,Studio Green | Director : | Music Director :
Movie Review
Director Pandiaraj's latest outing Kedi Billa Killadi Ranga has finally hit screens today after a long wait. The film has Vimal, Sivakarthikeyan, Bindu Madhavi and Regina in lead roles. The film is produced jointly by Pandiaraj's Pasanga Productions and Madhan's Escape Artist Motions.

The film opens with a new year eve party where Patta Murugan (Sivakarthikeyan) and Theni Kesavan (Vimal) decide to quit drinking and smoking. Cut back to the next new year eve where the childhood friends again takes the same resolution. Set against the backdrops of Ponmalai, Trichy, Murugan and Kesavan dream of becoming the area counsellor but at the same time they are not ready to work for it. They become a bane not only for the locals but also for their family members; their parents even disown them. At this point, Murugan meets Pappa (Regina), who runs a stationery cum xerox shop along with her father; its obiviously love at first sight for him. But his friend Kesavan is against his love as he believes that the arrival of girls in their life means end to their friendship. After many small hiccups, Kesavan meets Mithra (Bindu), who works in a local hospital. Later he finds out that Mithra is his childhood friend and develops a soft corner for her. The decision to contest in the local elections makes their life even tougher. So what will happend when these carefree vagabonds contest in the elections... Watch out...

Kedi Billa Killadi Ranga is a different flick from director Pandiaraj. The comedy timings and one-liners are impressive. Music by Yuvanshankar Raja is good and Vijay's cameraworks are impressive. Vimal and Sivakarthikeya have done their role well while the heroines Bindu Madhavi and Regina doesn't have much screen presence. The rest of the starcast Soori, Delhi Ganesh and other have done their part well.

The film ends with a social message
User Reviews
Rating
Kedi Billa Killadi Ranga

News

View More

More
Kedi Billa Killadi Ranga 2...
Kedi Billa Killadi Ranga to...
Kedi Billa Killadi Ranga in...
Kedi Billa Killadi Ranga

Movie videos
Kedi Billa Killadi Ranga Movie

Photos

View More

More