Kabali Movie Review

(2016)
Kabali Review - : It's Thalaivar all the way!...directed by Ranjith the cast Rajinikanth, Kalaiyarasan, Radhika Apte, Dhanshika, Santosh Narayanan etc.. Read more about the Kabali movie and audience ratings.
News | Review | Wiki | Gallery | Music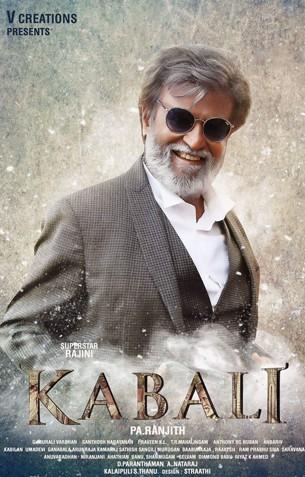 Movie Review
From aircraft to coffee mugs to credit cards, Superstar Rajinikanth is definitely back on track with his sensational Kabali. The film, which is all ready to set the screens on fire on July 22, has finally brought back the Rajini mania back. With Kochaidaiyaan and Lingaa failing miserably at the boxoffice, the electrifying Kabali Da dialogues has upped the enthusiasm of Superstar fan. The film will be releasing on a whooping 4000 screens across the globe.

Produced by Thanu and directed by Ranjith, Santosh Narayanan is the music director of this gangster saga. The movie teaser has already broken all the records to become India's most watched video.

Kabali aka Kabaleeswaran is the messiah of Malaysian Tamils, who are often abused and troubled by Chinese plantation owners and gangsters. On a war against aristocracy, Kabali loses his family and ends up in Jail. After twenty-five years, he is back--this time in a stronger and powerful way. He has only one mission, to avenge his enemies.

Thumbs Up:

It's Thalaivar, Thalaivar and Thalaivar all the way, and he pulls it off with ease. This is not the regular Rajinikanth films that we have been witnessing over the years, Ranjith has brought out the actor in him with perfection. Kabali is an action-packed family drama with a gangster backdrop, it also touches the issues faced by Malaysian Tamil—which is, in fact, a rare thing in Kollywood.

Radhika Apte has done her part well, the Radhika-Rajini combo is definitely a treat to watch. And for action-loving women, there is our pixie-styled Dhansika, who has pulled out a great performance.

Among the villain trio, it is Taiwanese actor Winston Chao who stands tall. The rest of the starcast including Kishore, Dinesh Ravi, Kalaiyarasan, John Vijay and Rythvika have done an amazing job.
Santhosh Narayanan's background score is electrifying and brings goosebumps for any Thalaivar fan. His music is well complemented by the visuals.

Kudos to director Ranjith for making a bold move, this Kabali is different and stands apart with a thrilling climax. A perfect mix of Rajini and Ranjith film.

Thumbs Down:

Ranjith's screenplay is laggy and loses it's pace at many places, it's pace at many places, in addition, there are no comedy tracks. Though the cast has given out thundering performances, we definitely miss those mass Thalaivar moments.

Ranjith has tried to give out a realistic narration which sometimes falls flat.

Verdict:

It's Thalaivar all the way!
Verdict
It's Thalaivar all the way!
Galatta Rating: ( 3.7 /5.0 )
Public/Audience Rating
TAGS : Kabali Review, Kabali Movie Review, Kabali Ratings, Kabali Story, Kabali Review Galatta, Kabali Film Review, Superstar,Rajinikanth,Rajinikanth movies,Rajinikanth songs,Malaysia,Kabali,Kabali stills,Radhika apte,Radhika apte movies,Rajinikanth style,Kalaipuli s Thanu,Kalai puli s thanu movies,Ramjith,Ranjith director