Kaali Movie Review

(2018)
News | Review | Wiki | Gallery
Review By :
Galatta Review Panel|
Release Date :
2018-05-18 |
Movie Run Time :
2:13:0 |
Censor Rating :
U
| Publish Date :
2018-05-18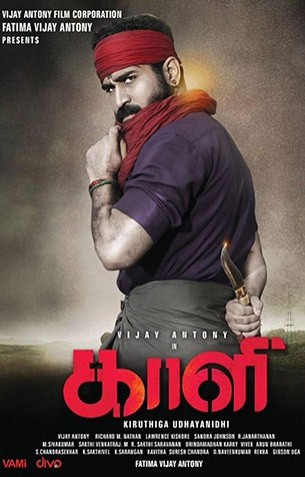 Kaali Movie Cast & Crew

Cast : Nasser,Yogi Babu,Sunaina,Anjali
Production : Vijay Antony Film Corporation | Director : Kiruthiga Udhayanidhi | Cinematography : Richard M Nathan | Story Writer : Kiruthiga Udhayanidhi | Screenplay : Kiruthiga Udhayanidhi | Music Director : Vijay Antony
Movie Review
Kaali is a Tamil language action period drama film directed by Kiruthiga Udhayanidhi. Kaali Movie features Vijay Antony alongside Anjali, Sunaina, Amritha Aiyer and Shilpa Manjunath in lead roles. Kaali film is produced by Vijay Antony Film Corporation.
The story starts off showing Vijay Antony as Bharath, the MD of the Bharath Multi-Speciality Hospital in the US, who is frequently haunted by nightmares that feature a snake and a bull clashing against each other.
Once Bharath starts to ponder what could be the reason for such a weird dream to occur regularly, he comes upon the stark realization that his parents aren't really his parents. He then goes on a quest and comes to India to find his biological parents whenhe comes across three different stories in which Vijay Antony is seen as three different characters. As a result, he plays four different characters, but Bharath is the only true character, whereas the remaining are just imaginary.
Anjali is Bharath's pair while Sunainaa, Shilpa Manjunath and Amritha Aiyer all play the fictional characters' romantic interests appearing in cameo roles and have little to do to bring an effect to the story.
From a technical standpoint, Kaali is excellent; be it Richard M. Nathan's cinematography and Lawrence Kishore's editing, both their efforts go hand-in-hand and the results are visible on the screen when we view the final output. As for the music, the background score is commendable, while the "Arumbey" track is the only memorable tune of the lot of songs in the film.
The screenplay is quite different as the flashback narrative takes a non-linear route and we are given extensive time to witness Vijay Antony's histrionic skills.
The entire film primarily revolves on Vijay Antony's emotions and he has utilized the opportunity quite well to the fullest extent. Each flashback story is connected to the next flashback story which leads to the completion of the plot at the climax where we witness the hero finally find his real parents.
Thumbs Up
Although predictable at times, a fresh approach to the story
Vijay Antony's refined performance
Different screenplay
Flashback sequences
Thumbs Down
Story could have had more depth
Average songs
Verdict
An interesting story indeed
Galatta Rating: (

3.5

/5.0 )
3.5
Rating
The Dhanush-Simbu Connect In Vijay Antony'...
The Nightmare Factor In Vijay Antony's Kaali
Here's Why Vijay Antony And Kiruthiga Udha...
Kaali And Goli Soda 2 Gets A Trippy Competitor
Acclaimed Director's Film To Face Off Agai...
May 18 - An Important Date For Vijay Antony...
TAGS : Kaali, Vijay Antony, Sunainaa, Anjali, Shilpa Manjunath, Amrita Aiyer, Nasser, Yogi Babu,