Ethir Neechal Movie Review

(2013)
Review By :
Galatta Review Panel|
Release Date :
2013-05-01 |
Movie Run Time :
:: |
Censor Rating :
U
| Publish Date :
2013-05-01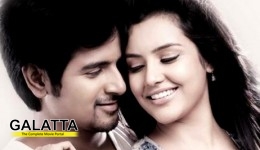 Ethir Neechal Movie Cast & Crew

Cast : Anirudh Ravichander,Siva Karthikeyan,Priya Anand,Nanditha
Production : Wunderbar Films | Director : | Cinematography : | Story Writer : | Screenplay : | Music Director :
Movie Review
The buzz around Ethir Neechal started when Dhanush announced the movie. Given that this is the first production venture of the National Award winning actor, add to that it has 'Kolaveri' fame Anirudh making the music and the lead actor is Sivakarthikeyan who has become the flavour of the box office thanks to movies like Marina and 3, Ethir Neechal was expected to be the most awaited movie in recent times. And looking at the opening that the movie has received all of the above seems true.
What's it about?
Ethir Neechal is about a young man Kunjipatham aka Harish (Siva), Geetha (Priya Anand) and Valli (Nandita) and how their lives intertwine. Revealing about the story would be a spoiler, but it can be said that it is simple tale of how a change in name affects the life of the protagonist. The movie has been taken to great heights just on the basis of the performances of the cast and technical brilliance. The comedy in the first half and the dramatic and engaging screenplay in the second half makes Ethir Neechal worth to watch.
Performances
It is Sivakarthikeyan all the way. Of course his comedy is excellent, given that it is his forte, but it is interesting to see him carry off the romantic angle of his character with style. Be it the songs or the scenes, his chemistry with Priya Anand is a treat to watch. Priya Anand is pleasant. She is one of the few actresses who is able to look glam and girl-next-door at the same time! She provides able support to the narrative. As a school teacher she has performed her role well. Nandita whose performance in Attakathi was appreciated, has done a good job. As Valli she is believable and lovable. Rest of the cast especially Jayaprakash have given commendable performances.
Technique
Story wise Durai Senthilkumar does not offer much, but his screenplay is what keeps the movie going. It is a mix of a sports, romance and comedy; not necessarily in that order. The camera work by Velraj is awesome. Special mention must be made of his work in the song sequences and the dramatic scenes. But the hero of the story is Anirudh whose background score is another character in the story. The young composer proves that he is not just a fluke hit, but has oodles of talent that is yet to be tapped.
Special mention
Perhaps the mist awaited aspect of the movie is the cameos by Dhanush and Nayantara. Dhanush gets a hero's welcome as soon as he comes on screen. As a producer congratulations to him for bringing to cinemas a complete entertainer, devoid of double meaning and vulgar jokes, crass songs and unnecessary blood shed. Nayantara's presence wanes when compared to Dhanush, but nevertheless it is wonderful to see the talented actress in a Tamil movie after three years.
Verdict
Ethir Neechal is indeed a must watch with friends and family. Enjoy!
User Reviews
Rating
Ethir Neechal completes a...
Ethir Neechal rocks box office
Ethir Neechal Movie Review
Ethir Neechal gets clean U
Ethir Neechal to hit...
Ethir Neechal shoot wrapped!
Ethir Neechal

Movie videos
Ethir Neechal Movie

Photos

View More

More