Galatta Review Board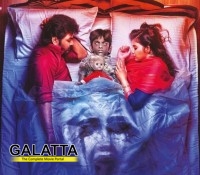 Balloon is something that represents a fun and celebratory mode as we use it in parties and celebrations. This Balloon starring Jai, Anjali, Janani Iyer and Yogi Babu will change that experience as Balloon is used to represent a horror nerve and has been exploited with suspense through out the movie. Horror has been the trend for quiet some time now and Balloon has come as one of the year end releases as a finishing touch for 2017.
Directed by Sinish under 70mm Entertainment and Farmer's Master Plan Productions, Balloon comes as a wholesome horror entertainment with some eerie moments. While some moments may remind of you some other horror movies, especially from Hollywood, Balloon still comes across as a perfect horror flick and will make you go chill with fear with unexpected moments.
Yes there is love, murder, reincarnation and special effects but you can go with a guarantee that still Balloon will give you a special feeling in the horror genre. Jai and Anjali especially, who come together on screen after Engeyum Eppothum come as a refreshing pair in this genre.
Janani Iyer, Yogi Babu, Chandini Tamilarasan, Karthik Yogi and Raj Tarun have all added to the plot, their performance to bring an entertaining horror movie. There is humour and horror in the script but the horror element has been dealt with utmost seriousness. Though the flashback and the revenge is an age old formula, Sinish has managed to deliver a fresh script with the tight screenplay.
Jai has scored well in this full length horror movie and this is a proof that the young actor can handle such serious scripts too. Anjali and Janani Iyer have lot of scope for performance and do not play the usual glam doll heroine type of characters. The supporting cast too have lived upto the expectations and a special mention to the child artists who have a pivotal role to play.
Needless to say, Yuvan Shankar Raja's music is an important element of the movie and assures the darkness of the plot is enhanced. R Saravanan's Cinematography and Ruben's editing are the other pillars of the plot.
Thumbs Up
Yuvan Shankar Raja's Music
Perfect Lead Cast
Horror is dealt with seriously
Yogi Babu's Comic Relief
Thumbs Down
Some predictable moments could have been avoided
Verdict - A classic Eerie Revengeful Horror Movie
Verdict :A classic Eerie Revengeful Horror Movie
Galatta Rating: ( 3 /5.0 )
Public/Audience Rating
Balloon
Balloon is a Tamil movie. are part of the cast of Balloon. The movie is directed by Music is by . Production .