Achcham Yenbadhu Madamaiyada Movie Review

(2016)
Achcham Yenbadhu Madamaiyada Review----. directed by Gautham Menon the cast STR, Manjima Mohan, etc.. ...Read more about the Achcham Yenbadhu Madamaiyada movie and audience ratings.
News | Review | Wiki | Gallery | Music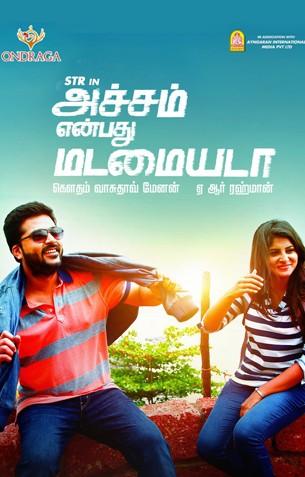 Movie Review
Many a times we have seen directors referring to international cinema (well, you can even call it a if off) for inspirations, which are often in the form of a plot or scene. But, in Gautham Menon's Achcham Yenbadhu Madamaiyada, he seems to have taken the inspiration from his own films. The opens like Khaaka Khaaka, progressing like Vinnaithaandi Varuvaaya and ends like an action entertainer. From the trailer and song promos, if you have concluded it as a breezy romance, then you might end up on the wrong seat. AYM is a mix of action, romance and humour. The first half is a melodious love story between a boy (whose name is revealed only in the latter half) and Leela (Manjima), but, then the story progresses into a bloodly action adventure—when the couple decided to go on a bike trip.
Thumbs Up

AR Rahman's music is the key backbone of AYM, the heart wenching Thalli Pogathey needs no words. The background score, perfect RR and the melodious songs make the film a soothing watch. We can confidently say, ARR is back in Kollywood with a bang.

After lots of hiccups and hurdles, STR is back on the screen. His character in AYM is something that he has already played, and despite that he has done it with ease.

Manjima Mohan looks impressive, she has delivered an intense performance. However, the heroine in a Kollywood film is nothing but stereotypical, she has to stand behind a man or suffer in their hands.

Baba Sehgal and Daniel Balaji play the antagonist and both have done their roles well.

Cinematography by Dan Macarthur is top notch and classy, well complimenting AR Rahman's music.

Thumbs Down

There are too many cliched scenes that we have already experienced in other Gautham Menon films—though it looks good, gets irritated after a point.

Looks like director Gautham Menon has lost the light on the way, there seems to be a large misconnect between the first and second half.

VERDICT:
A Never Ending Road Trip
Verdict
A Never Ending Road Trip
Galatta Rating: ( 3.8 /5.0 )
Public/Audience Rating
Achcham Yenbadhu Madamaiyada

News

View More News
Achcham Yenbadhu Madamaiyada Movie

Photos

View More Photos
TAGS : Achcham Yenbadhu Madamaiyada Review, Achcham Yenbadhu Madamaiyada Movie Review, Achcham Yenbadhu Madamaiyada Ratings, Achcham Yenbadhu Madamaiyada Story, Achcham Yenbadhu Madamaiyada Review Galatta, Achcham Yenbadhu Madamaiyada Film Review