Galatta Review Board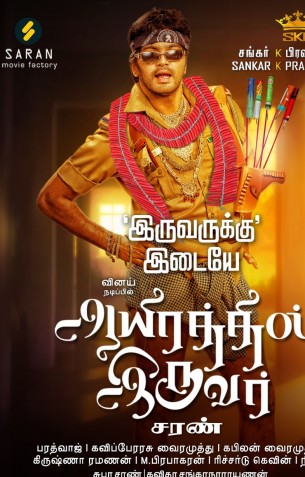 After a long break, director Saran is back to making movies again and he has started off his second innings with a commercial entertainer that would appeal to audiences of all classes.
Making a film that is appealing to both Tamil and Telugu audiences is not easy but the director has handled it brilliantly by providing all the ingredients in the right proportions. Starring Vinay in the lead cast, Aayirathil Iruvar has a lot of comedy moments that will keep you laughing through the entire run time that is close to 2 hours 30 minutes.
Vinay plays a dual role for the first time and the script is in such a way that the characters don't meet. While one of the character fall in love with Samuthrika, another falls in love with Swathika. The story takes place in two different cities, one in Hyderabad and another in Tirunelveli. Both the characters interchange lives towards the interval and it leads to a lot of hilarious moments.
In terms of storyline, Aayirathil Oruvan may not sound very impressive because it's the tale of two twin brothers who lose touch and join again in the climax. However, it is in the treatment where director Saran, the entire cast and technical crew has done their best. Music by Bharadwaj is evident in some of the songs and the background score.
A lot of glamor scenes by the heroines would definitely make it an easy sell among the B and C centers in Tamil Nadu. And, so does the comedy handled by numerous artists including Mayisamy, Ilavarasu, Aruldoss, Daniel Pope and others. Kajal, popularly known as Bigg Boss Kajal now plays a menacing villain and her looks suit the character aptly.
For anyone looking for a fun and comedy ready in the theaters, Aayirathil Oruvan promises and delivers the same throughout its run time. A good watch!
Thumbs Up
· Vinay in dual roles had done his best and delivers cool acting
· Comedy galore sponsored by so many actors. Aruldoss stands out of the lot.
· Occasional chuckles by dialogs from random characters keeps you going
· Glamor quotient is abundant
Thumbs Down
· Familiar story line and the overall length of the film
Verdict – Fun watch guaranteed!
Verdict :Fun watch guaranteed!
Galatta Rating: ( 5 /5.0 )
Public/Audience Rating