Yatchan, sequel to Arinthum Ariyamalum?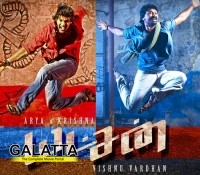 By

Krishna B Nair

[

September 08, 2015

]
Director Vishnuvardhan's 2005 release Arinthum Ariyamalum, which became a blockbuster completing 175 days run at the box office is still remembered for its unique concept but most of all for the peppy number 'Theepidika'. From the very same director yet another action film titled Yatchan, is heading towards release this weekend. As the successful collaboration of Vishnuvardhan, Arya and Yuvanshankar Raja join hands once again, expectations are escalating. The trailers and posters of the film created suspicions among a few that Yatchan might be a sequel to Arinthum Ariyamalum.

To clear the air, Galatta did an exclusive interview with the hit making director Vishnuvardhan, who was surprised by the question! The Billa director answered that the film is in no way related to his previous ventures Arinthum Ariyamalum or Pattiyal. He further added that Yatchan did have the flavour of Arinthum Ariyamalum but there ends the similarity. Yatchan is treated with a more balanced blend of comedy, action and romance.

The action-comedy Yatchan, starring Arya and Kreshna has actresses Swathi Reddy and Deepa Sannidhi pairing with heroes. Produced by Vishnuvardhan in collaboration with UTV motion pictures, the music of the film is composed by the inimitable Yuvanshankar Raja. Let's get ready to catch the action!
TAGS: ,Arya ,Krishna ,Vishnuvardhan ,Yatchan