Galatta
|
12:00 AM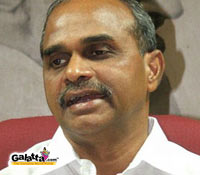 Y.S. Rajasekhara Reddy is no more; Josh postponed
Andhra Pradesh Chief Minister Y.S. Rajasekhara Reddy died in a helicopter crash on a�hilltop between Rollapenta and Rudra Koduru in Kurnool, Andhra Pradesh, the Prime Minister's�office has confirmed�today (Thursday).
The missing Bell 430 chopper was located on top of a hill about 40 nautical miles (74 km) east of Kurnool at Rollapenta by Indian Air Force (IAF) almost after 24 hours since�it went missing.�Defence officials who reached the spot, have communicated that there were no survivors and the bodies were partially burnt and decomposed.
The CM was travelling with his Principal Secretary S. Subrahmanyam and Chief Security Officer A.S.C. Wesley and two pilots. The�whole of�Andhra Pradesh and several other parts of the country are plunged into grief and gloom as YSR's death was confirmed.
As a mark of respect for the late CM, Tollywood producer Dil Raju and Nagarjuna have decided to postpone the release of their ambitious film Josh, slated for September 3 release. The premiere show of the film is also cancelled. The grand premiere show was planned at Prasads Multiplex at 9.30 p.m. on Wednesday night. Y.S. Rajasekhara Reddy was very close to Dil Raju and Nagarjuna.