Galatta
|
12:00 AM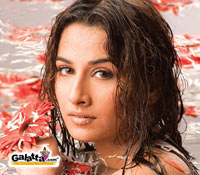 Vidya Balan to play Silk Smitha?
Vidya Balan has time and again managed to bag roles which any other actress would give her right hand for. Recall her sensual performance in Parineeta,�the bold and sexy woman in Ishqiya, and mommy dearest to Amitabh Bachchan himself in Paa.
So when casting for a film based on a strong yet sensual woman is being done, it's hardly a surprise that Vidya Balan seems THE obvious choice. Sure enough, for Ekta Kapoor's next film (that chronicles the life of the infamous actress Silk Smitha) currently in pre-production, the lead�is being discussed and the buzz is that it's Miss Balan who will play the dare-all Silk Smitha in the film.
Unlike what would seem obvious, the film does not revolve around the sleazy image this late actress got stuck with; instead, it's about how the industry's complexity, stress and�eventual loneliness led to her death. Silk Smitha was a South siren, a cult figure who defied conventions and made it on her own. Circumstances and alcohol drove her to what is believed to be a death by suicide.
Milan Luthria, who is currently making Once Upon A Time In Mumbai for Ekta's banner, will be directing this film.
Vidya Balan however hasn't confirmed the news. But one thing is for sure. If Vidya is the one who�plays this part, the film is a winner already.
Courtesy: Bollywood Hungama
TAGS :