Galatta
|
09:23 PM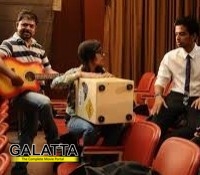 Vaanavil Vaazhkai, the directorial debut of music director and anchor James Vasanthan is a first of its kind movie. Claimed to be the first musical film in Tamil, the film is written, composed and directed by James Vasanthan. He is confident that the film will be gripping for the audience even with 17 songs.
The cast is completely new with real life musicians who are college students as the movie is about the rivalry in inter college competitions. The film is scheduled to release on March 13 after a couple of postponements and is now releasing in USA, in Bay Area, Chicago and Dallas.
The second trailer released on March 5 has been received well. Just three more days for the audience to be entertained with a musical journey. All the best to the entire team of Vaanavil Vaazhkai.