Galatta
|
12:00 AM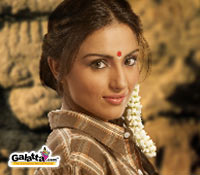 Telugu is easier for me: Sapan Saran
Remember rising star Sapan Saran, who shot to fame with the Bharath-Tamannaah super hit Tamil film Kanden Kadhalai (2009) in which she played the second heroine? She is now playing a meaty role in master filmmaker Gautham Menon's Naga Chaithanya starrer Yemaya Chesave, the Telugu version of his Tamil film Vinnaithandi Varuvaya, starring Silambarasan and Trisha. We recently had a chat with the actress and she was really excited about Yemaya Chesave, which is all set to grace screens on February 26.
"I am super excited, you know! Though I cannot reveal much about the film due to disclosure rules, I play one of the assistant directors to Puri Jagannath sir, who plays an ace film director�in the film. We had a day-long shooting with Puri sir. It was a wonderful experience working with him and he used to guide me before every scene about what�I�should do. In fact, I had an interaction with Puri sir on Facebook much prior to Yemaya Chesave and he could immediately remember my name on set!"
Ask about her experience�working in a Telugu film, this Mumbai miss says: "Well, I think it's simpler than Tamil which I've learnt quite a bit now. But for this film, I wrote everything in Hindi then�understood the meaning of every word. I sat with the assistants and asked them to speak the dialogues�to get my stressing right. That's how I managed. Moreover, Telugu has a lot of derivations from Sanskrit. I have a record of always scoring cent percent in Sanskrit in school. I'm good with languages!"
Debuting in films with Pathak's Bollywood film SRK, Sapan will leave for Hyderabad on February 25 and will be in the city for two days to watch two first day shows of her debut Telugu flick Yemaya Chesave. "One show is in a local theatre to gauge the�response from the audience and another in the evening, perhaps in IMAX." We wish all the very best to this aspiring actress.