Galatta
|
12:00 AM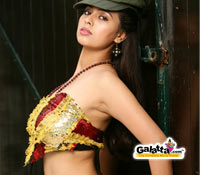 Tejashree's slimness secret
What is the secret behind Tejashree's slim physique?! Ever wondered after admiring it? Many think it is the result of rigorous workout sessions at the gym and a strict low-calorie diet, but the reason behind her beautiful physique is kathak. Yes! Tejashree is an expert in this ancient dance form of North India. Apart from a few weekly gym sessions to strengthen her muscles, the beautiful actress trusts kathak – which she practises every single day without fail – for burning calories and also for fighting stress.
Tejashree's interest in this dance form began as a child as her father, Jaikumar Khele, is a kathak master and runs a kathak school. Tejashree loves kathak just like she loves working in films, which is why she makes sure she practises this art even though she rarely has any time for it. She sometimes even forgoes outing or merrymaking to practice her favourite art, such is her love for kathak. It is her dream to open a kathak school some day.
This talented and beautiful actress is the heroine in Brahmadeva which will be released soon. Check her out in this film. She rocks!
Check out the links below: